Hairfollic Man
Hairfollic Man
Product Description
---
Hairfollic Man is a carefully balanced combination of vitamins, minerals and bio-active nutrients. It includes biotin, selenium & zinc to help maintain normal hair health plus an exclusive Tricologic Amino-lignan complex. More Info
Suitable for vegetarians
Hairfollic Man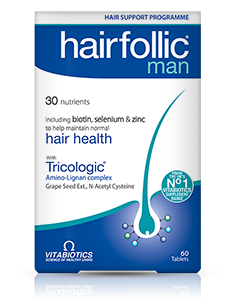 3 for 2
210 Reward Points
210 Reward Pts
---
Micronutrient tablets including biotin, selenium & zinc which contribute to the maintenance of normal hair health
Nutritional Information
Average per 2 tablets
% EC NRV*
Lignans
(as Secoisolariciresionol Diglucoside)
150 mg
—
Choline
100 mg
—
Myo Inositol
50 mg
—
N-Acetyl Cysteine
50 mg
—
L-Cysteine
50 mg
—
L-Methionine
50 mg
—
L-Lysine
50 mg
—
Grape Seed Extract
(95 % Proanthocyanidins )
5 mg
—
PABA
30 mg
—
Silica
32 mg
—
Betacarotene
2 mg
—
Vitamin D (as D3 600 IU)
15 μg
300
Vitamin E
60 mg α-TE
500
Vitamin C
180 mg
225
Thiamin (Vitamin B1)
10 mg
909
Riboflavin (Vitamin B2)
8 mg
571
Niacin (Vitamin B3)
36 mg NE
225
Vitamin B6
10 mg
714
Folic Acid
400 μg
200
Vitamin B12
20 μg
800
Biotin
150 μg
300
Pantothenic Acid
90 mg
1500
Magnesium
60 mg
16
Iron
8 mg
57
Zinc
15 mg
150
Copper
1000 μg
100
Manganese
0.5 mg
25
Selenium
150 µg
273
Chromium
50 μg
125
Iodine
150 μg
100

*NRV = Nutrient Reference Value, µg = microgram
mg = milligram, IU = International Units, †United States Pharmacopeia
Ingredients:Maltodextrin, Bulking Agents: Microcrystalline Cellulose & Gum Acacia, Choline (as Bitartrate), Vitamin C (Ascorbic Acid [Carriers: Hydroxypropylmethylcellulose & Tartaric Acid]), Standardised Lignans, Pantothenic Acid (as Calcium Salt), Magnesium Oxide, Vitamin E Natural Source (as D Alpha Tocopheryl Acid Succinate) (from Soya), L-Cysteine, Tablet Coating (Glycerin, Hydroxypropylmethylcellulose, Hydroxypropylcellulose, Caprilic/Capric Triglycerides, Natural Source Colours [Titanium Dioxide, Iron Oxides]), L-Lysine, N-Acetyl Cysteine, L-Methionine, Myo-Inositol (Carrier: Acacia Gum), Niacin (Nicotinamide), Zinc Sulphate, Silicon Dioxide (Colloidal Silica), Para Amino Benzoic Acid, Anti-Caking Agents: Stearic Acid & Magnesium Stearate, Ferrous Fumarate, Thiamin (Vitamin B1 Mononitrate), Vitamin B6 (Pyridoxine HCl), Betacarotene (Carriers: Starch, Water, Antioxidant: DL-Alpha Tocopherol), Riboflavin, Vitamin D3 (Cholecalciferol [Carriers: Acacia, Sucrose, Corn Starch, Medium Chain Triglycerides, Antioxidant: DL Alpha Tocopherol]), Grape Seed Extract, Copper Sulphate, Manganese Sulphate, Folic Acid (as Pteroylmonoglutamic Acid), Sodium Selenate, Chromium Trichloride, Potassium Iodide, Biotin, Vitamin B12 (Cyanocobalamin). Allergy Advice: For allergens, see ingredients in bold.
Directions
TAKE TWO TABLETS PER DAY WITH YOUR MAIN MEAL.
Swallow each with water or a cold drink. Not to be chewed. Do not exceed the recommended intake. To be taken on a full stomach.
This comprehensive formula replaces other Hairfollic multivitamins. There is no need to take an additional multivitamin.
Hairfollic Man is available in a 30 tablet pack (15 days supply) and a 60 tablet pack (30 days supply)
Suitable for vegetarians
No artificial colours
No preservatives
No yeast
Hairfollic is not tested on animals
Food Supplement
Food supplements must not replace a varied and balanced diet and a healthy lifestyle.
As with other food supplements, consult your doctor or pharmacist before using if you are under medical supervision, have epilepsy, a thyroid condition, haemochromatosis, suffer from food allergies, or are allergic to any of the ingredients.
Not suitable for children.
Allergy Advice: For allergens, see ingredients in bold.
Made in a site that may handle nuts. Not be taken on an empty stomach.
This product contains iron, which if taken in excess, may be harmful to very young children. To protect the ingredients in Hairfollic, always store as directed below.
Store below 25°C in a dry place, out of sight and reach of children.
Hairfollic Man FAQ
---
Why has Hairfollic Man been developed?
Hairfollic Man is a formulation of bio-active nutrients based on the latest scientific research. It has been scientifically formulated to provide a comprehensive spectrum of nutrients including biotin, selenium and zinc which contribute to the maintenance of normal hair and copper which contributes to normal hair pigmentation.
Top
Who can use Hairfollic Man?
Hairfollic Man may be used by individuals who are concerned about the appearance and general condition of their hair or scalp or by those showing age-related changes wishing to help support the hair's nutritional needs and support the maintenance of normal hair.
Top
How and when should Hairfollic Man be used?
Two or three tablets per day are recommended with or immediately after your main meal, with water or a cold drink. Taking the tablets with a large meal maximises the absorption of the nutrients and can reduce nausea, which is sometimes experienced if multivitamins are taken on an empty stomach. Hairfollic Man tablets should not be chewed.
Top
Can Hairfollic Man be taken simultaneously with medications?
Generally, Hairfollic Man can be taken alongside medications because it contains only moderate levels of vitamins and minerals and it is free of any drugs or hormones. As with other food supplements, seek professional advice before using if you suffer from food allergies, and consult your doctor or pharmacist for advice on taking Hairfollic Man with specific medicines.
Top
Are there any undesired effects whilst taking Hairfollic Man?
Hairfollic Man has no known side-effects when taken as directed. Do not exceed the recommended daily intake of tablets. In case of overdose, seek medical advice immediately. Diabetics should consult their doctor before using this product.
Top
Need help swallowing a tablet or capsule?
Difficulty in swallowing tablets is quite a common experience. Vitabiotics have researched this extensively and recommend after chewing some food (e.g. banana), just before you swallow, pop the tablet into your mouth and swallow it together with the chewed food, followed by some liquid. The throat opens up wider to swallow the chewed food and so the tablet should go down with greater ease. Alternatively, the tablets may be swallowed with thicker liquids such as yoghurts or smoothies.
Top
What are the active ingredients?
Please see nutritional information click here
Top
How long will I have to take Hairfollic Man before I can expect to see benefits?
Results vary amongst individuals, but in most cases, we would expect the beneficial effects of the bio-active nutrients in Hairfollic Man tablets to build over several months. There is no maximum length of time over which Hairfollic Man tablets may be used. A regular intake is recommended.
Top
Should I take a multivitamin together with Hairfollic Man?
Hairfollic Man provides a comprehensive balance of nutrients, which means there is no need to take an additional multivitamin.
Top
Some Nutrient Reference Value (NRV) levels are above 100% - is this safe?
Certain vitamins are very safe at levels tens or even hundreds of times the NRV, whereas for others the safety level is much closer to the NRV. For this reason every vitamin and mineral needs to considered on an individual basis in terms of its upper safe level.

The Nutrient Reference Value (NRV) is the amount of a vitamin or mineral which has been calculated to help prevent basic deficiency states in the general population. However, certain vitamins and minerals at optimal levels above the NRV have consistently been shown to have positive benefits in specific areas of health. This is why some Vitabiotics formulas have certain nutrient levels greater than 100% NRV.

All Vitabiotics products have been developed using the latest research and contain effective levels of vitamins and minerals while avoiding any excessive amounts, in accordance with official upper safe limits for vitamins and minerals.

Vitabiotics avoids 'mega dose' levels of isolated nutrients and instead we have always stressed the importance of safe, moderate and sensible levels of vitamins and minerals, carefully balanced to maximise their combined effect; an approach which has been supported by many experts and researchers over the years.
Top
---
"I took these tablets to the recommended dose as on the box and they worked brilliant when I had my radiotherapy consultation they were surprised how quick it had grown back. After I stopped taking them to concentrate on different vitamins they slowly started dropping out again so for me they definitely worked."Mr G G , United Kingdom
"Two years ago my hair started falling out; GP visits and blood tests could not establish the cause. I tried one hair loss product after the next, but nothing made a difference. Hairfollic was just another product I was going to try and I was genuinely surprised when I noticed reduced hair loss within a couple of weeks of taking this product. 5 weeks later and my hair continues to improve. "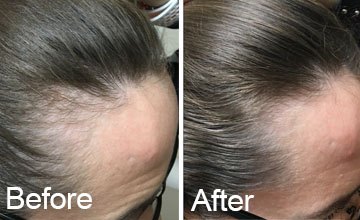 Mrs M P , United Kingdom
"WHEN I CAME TO KUWAIT FROM INDIA I GOT SEVERE HAIR LOSS DUE TO WATER. LATER A DOCTOR PRESCRIBED WELLMAN HAIRFOLLIC MAN TABLETS, I HAVE SEEN THE RESULTS VERY QUICKLY, NOW MY HAIR GROWS VERY FAST AND LOOKS AWESOME .. THANKS TO VITABIOTICS... "Mr S Paramasivam , Kuwait
"I have been taking Hairfollic Man for 3 months, I now don't wear a baseball cap everywhere, yes they work"Mr R Lewis , United Kingdom
"I am a 36 years old woman and I started to take the tablets for more than a month now, I can see a massive improvement and a lot of difference in my hair"Miss A . , United Kingdom
"Hair fall started out of the blue, tried oil, shampoo's, deep treatments and nothing seemed to be helping! Finally met with a doctor who advised I try these, its been close to 4 months of usage now and I can honestly say that this product has helped considerably! I still do have hair fall yes, but nowhere as bad as before. I tend to skip a few tablets every now and then and thats when I realise how much of a difference the product makes. Must Buy! "Mrs A A , United arab emirates
"Fantastic product. I've been talking it for just over two months and can see such a huge change in my hair. The texture, its thicker, softer, shinier, more volume, easier to manage. I started taking Hairfollic because I noticed my hair was thinning and lacked shine and lustre. These tablets really put my hair back on track and I will take them for a total of six months. I am so happy with this product and recommend it to anyone who needs to boost their hair. Thank you Vitabiotics."Ms C Buttigieg , Malta
"I just thought I would say that I have been impressed with the "Hairfollic Man" supplements for hair growth and condition. I have only been using these for a month and my hair looks great, (also commented on by my partner!) many thanks."Mr I J , United Kingdom
"I am a 50 + woman who had always taken good care of my appearance and been interested in optimum health. However in recent years my hair started falling out, and with every wash I became more and more anxious with the amount of hair that came out. I questioned my hairdresser, who said it was 'normal hair loss' even though I knew it not to be so. I tried various supplements and none helped….then several months ago I saw Hairfollic Woman in Boots and bought some. I noticed a reduction in the amount of hair loss with each wash, and this continued to be the case ever since. I would not hesitate to recommend this product, as it is one of the few on the market which actually does what it claims- THANK YOU !! "Ms E B , United Kingdom
"I faced the problem of strong hair loss 2 years ago, but didn't recognise it. I tended to explain it as a seasonal hair loss. Finally, the situation became critical and I started panicking. From my friend I learnt about Vitabiotics, and started to use Hairfollic 2 months ago. Nowadays, I see that not only a hair loss has stopped, but much new hair grows....It's amazing! I recommend it to everyone!"Miss I Sokolskaya , Russia