Diabetone Plus
Diabetone Plus
Product Description
---
Diabetone Plus includes nutrients to help safeguard daily nutritional requirements, including Chromium which contributes to the maintenance of normal blood glucose levels. Plus, the dual pack also provides a separate Omega-3 capsule. More Info
Diabetone Plus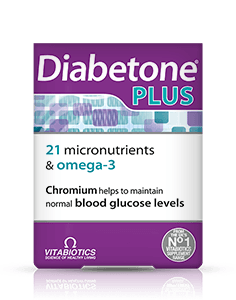 3 for 2
115 Reward Points
115 Reward Pts
---
One-a-day micronutrient tablets plus Omega-3 fish oil capsules
Nutritional Information
Average per tablet
% EC NRV†
L-Carnitine
50mg
-
Vitamin A (2333 IU)
700 µg RE
88
Vitamin D (as D3 600 IU)
15 µg
300
Vitamin E (natural source)
20 mg α-TE
167
Vitamin C
120 mg
150
Thiamin (Vitamin B1)
30 mg
2727
Riboflavin (Vitamin B2)
5 mg
357
Niacin (Vitamin B3)
45 mg NE
281
Vitamin B6
10 mg
714
Folic Acid
400µg
200
Vitamin B12
9 µg
360
Biotin
200 µg
400
Pantothenic Acid
10 mg
167
Magnesium
100 mg
27
Iron
8 mg
57
Zinc
15 mg
150
Copper
1000 µg
100
Manganese
2 mg
100
Selenium
100 µg
182
Chromium
160 µg
400
Iodine
100 µg
67

*NRV = Nutrient Reference Value, µg = microgram
mg = milligram, IU = International Units, †United States Pharmacopeia
Microcrystalline Cellulose, Magnesium Oxide, Maltodextrin, Vitamin C (Ascorbic Acid, Carrier: Hydroxypropylmethylcellulose), Tablet Coating: (Hydroxypropylcellulose, Hydroxypropylmethylcellulose, Natural Source Colours: [Titanium Dioxide, Iron Oxides]), L-Carnitine Tartrate, Thiamin (Vitamin B1 as Mononitrate), Niacin (as Nicotinamide), Polyvinylpolypyrrolidone, Zinc Sulphate, Anti-Caking Agents: Silicon Dioxide, Purified Talc, Stearic Acid & Magnesium Stearate, Vitamin E Natural Source (D-Alpha Tocopheryl Acid Succinate) (from Soya), Ferrous Fumarate, Vitamin B6 (Pyridoxine HCl), Pantothenic Acid (as Calcium Salt), Vitamin B12 (Cyanocobalamin, [Carrier: Dicalcium Phosphate]), Vitamin A (as Acetate [Carriers: Gum Acacia, Sucrose, Starch, Tricalcium Phosphate, Antioxidant: DL-Alpha Tocopherol]), Ethyl Cellulose, Riboflavin, Manganese Sulphate, Copper Sulphate, Vitamin D3 (Cholecalciferol [Carriers: Medium Chain Triglycerides, Colloidal Silica, Purified Talc, Maltodextrin, Butylated Hydroxyanisole & Ethylcellulose]), Chromium Trichloride, Folic Acid (as Pteroylmonoglutamic Acid), Biotin, Sodium Selenate, Potassium Iodide. Allergy Advice: For allergens, see ingredients in bold.
Super Potency Omega-3
Nutritional Information
Average per tablet
% EC NRV†
Omega-3 Fish Oil
541 mg
-
Providing:
EPA
179 mg
-
DHA
119 mg
-
Vitamin E
5.5 mg α-TE
46

*NRV = Nutrient Reference Value, µg = microgram
mg = milligram, IU = International Units, †United States Pharmacopeia
Omega-3 Capsule Ingredients: Omega-3 Fish Oil (from Fish), Capsule Shell (Pharmaceutical Grade Gelatin [Halal Bovine Source], Glycerin, Orange Flavour), Vitamin E (D-Alpha-Tocopherol acid succinate) (from Soya). Allergy Advice: For allergens, see ingredients in bold.
Directions
ONE NUTRIENT TABLET (PURPLE BLISTER) PER DAY, PLUS ONE OMEGA-3 CAPSULE (GREEN BLISTER) PER DAY WITH YOUR MAIN MEAL. Swallow each with water or a cold drink and take with a main meal. Not to be chewed. Do not exceed the recommended intake. Diabetone should not be taken on an empty stomach. This comprehensive formula replaces other Diabetone supplements and multivitamins. There is no need to take an additional multivitamin.
No artificial colours or preservatives
No yeast
No lactose or added sugar
Diabetone has not been tested on animals
Food Supplement
Food supplements must not replace a varied and balanced diet and a healthy lifestyle. As with other food supplements, consult your doctor or pharmacist before using if you are under medical supervision, pregnant, breast-feeding, have epilepsy, a thyroid condition, haemochromatosis, suffer from food allergies, or are allergic to any of the ingredients. Not suitable for children.
Allergy Advice: For allergens, see ingredients in bold.
Made in a site which may handle nuts.
Not to be taken on an empty stomach. This product contains iron, which if taken in excess, may be harmful to very young children.
Store below 25°C in a dry place, out of sight and reach of children.
Diabetone Plus FAQ
---
Why has Diabetone Plus Omega-3 been developed?
Diabetone Plus Omega-3 is a general multivitamin and mineral food supplement specially formulated to be suitable to safeguard your nutritional requirements. There is no need to take an additional multivitamin. Diabetone Plus Omega-3 provides a multivitamin along with a high purity Omega-3 capsule in a handy dual pack. Diabetone Plus Omega-3 includes 22 specialist nutrients including chromium which contributes to the maintenance of normal blood glucose levels, vitamin B6 which contributes to normal protein and glycogen metabolism, plus thiamin (vitamin B1) which contributes to normal functioning of the nervous system. Also provides zinc which contributes to normal macronutrient metabolism.
Top
When is Diabetone Plus Omega-3 recommended?
Diabetone Plus Omega-3 is recommended as a daily nutritional safeguard to help maintain general health and vitality. It is ideal for those who want the most comprehensive nutritional formula plus an additional Omega-3 capsule. It is not a treatment for diabetes or metabolic control, but intended to help maintain overall health and wellbeing. Diabetone Plus Omega-3 can be taken for as long as required and replaces your usual multivitamin. There is no maximum length of time over which it may be used.
Top
Can Diabetone Plus Omega-3 be used simultaneously with medications?
Generally Diabetone Plus Omega-3 may be taken along with prescribed diets or medication but it should only be used under the guidance of your physician or health care professional. Diabetone Plus Omega-3 is a vitamin, mineral and Omega-3 supplement and should never be used in place of prescribed diets or medication.
Top
How and when should Diabetone Plus Omega-3 be used?
The recommended dose is one tablet and one capsule per day, to be taken with or immediately after your main meal, with water or a cold drink. Taking the tablet and capsule with a large meal maximises the absorption of the nutrients and can reduce nausea, which is sometimes experienced if multivitamins are taken on an empty stomach. Diabetone Plus Omega-3 should only be taken on a full stomach. Always ensure that Diabetone Plus Omega-3 is taken with plenty of liquid to wash the tablet and capsule down and not tea or coffee, as this may cause them to disintegrate too early.
Top
Need help swallowing a tablet or capsule?
Difficulty in swallowing tablets is quite a common experience. Vitabiotics have researched this extensively and recommend after chewing some food (e.g. banana), just before you swallow, pop the tablet into your mouth and swallow it together with the chewed food, followed by some liquid. The throat opens up wider to swallow the chewed food and so the tablet should go down with greater ease. Alternatively, the tablets may be swallowed with thicker liquids such as yoghurts or smoothies.
Top
Are there any undesired effects whilst taking Diabetone Plus Omega-3?
Diabetone Plus Omega-3 has no known side-effects when taken as directed. Do not exceed the recommended tablet intake. In case of overdose, seek medical advice immediately.
Top
How many tablets does one pack of Diabetone Plus Omega-3 contain?
There is 4 weeks supply in the Diabetone Plus Omega-3 pack (28 tablets and 28 capsules)
Top
What are the active ingredients?
Please see nutritional information click here
Top
Is Diabetone Plus suitable for vegetarians?
No. Diabetone Plus is not suitable for vegetarians as it contains fish oil in a pharmaceutical grade gelatin capsule. Adults can obtain DHA and EPA indirectly through the conversion of the essential fatty acid alpha-linolenic acid (ALA), present in vegetable oils such as linseed but this process is very inefficient. Diabetone Plus contains fish oil as it provides a much more reliable, direct source of DHA, EPA and AA.
Top
Some Nutrient Reference Value (NRV) levels are above 100%, is this safe?
Certain vitamins are very safe at levels tens or even hundreds of times the NRV, whereas for others the safety level is much closer to the NRV. For this reason every vitamin and mineral needs to considered on an individual basis in terms of its upper safe level.

The Nutrient Reference Value (NRV) is the amount of a vitamin or mineral which has been calculated to help prevent basic deficiency states in the general population. However, certain vitamins and minerals at optimal levels, above the NRV, have consistently been shown to have positive benefits in specific areas of health. This is why some Vitabiotics formulas have certain nutrient levels greater than 100% NRV.

All Vitabiotics products have been developed using the latest research and contain effective levels of vitamins and minerals, while avoiding any excessive amounts, in accordance with official upper safe limits for vitamins and minerals.

Vitabiotics avoids 'mega dose' levels of isolated nutrients and instead we have always stressed the importance of safe, moderate and sensible levels of vitamins and minerals, carefully balanced to maximise their combined effect; an approach which has been supported by many experts and researchers over the years.
Top
---
"Honestly this product has surprised me. I mean I am not sure if I will ascribe the way I feel to it only because I take a lot of other remedies. However since I started taking this supplement daily, there are no side effects on me and.... I feel really great and I think Vitabiotics should double their efforts and keep the supplement coming and maintain it. It seems to be working really well."Mr C C , United Kingdom
"Great Product. The first product I felt which has given me a boost in my life. Thanks to Vitabiotics. My whole family and parents are using these products."Mr M Siddiqui , Pakistan
"Your product was suggested to me three months ago as I am diabetic and it was suggested that regular use of Diabetone plus Omega 3 would be of benefit. Having now used the product daily since then, I can only say that the advice given was excellent and I believe has helped given me renewed energy levels that I had not attained for some considerable time."Mr K Morson , United Kingdom
"I ride for a cycling team in the UK and have diabetes. I have been taking Diabetone for 3 weeks and have noticed that it has really made a difference to my general well-being. I now wake up in the mornings clear-headed and ready to go since taking Diabetone. Keep it up Vitabiotics, especially for us diabetics!"Mr I Rees , United Kingdom