Ultra Omega-3
Ultra Omega-3
Product Description
---
Ultra Omega-3 capsules are high in strength, with over 60% Omega-3 fatty acids providing a rich source of DHA and EPA. More Info
Ultra Omega-3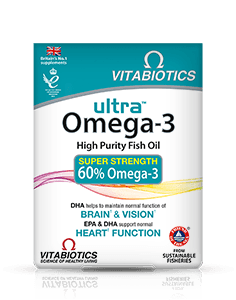 3 for 2
80 Reward Points
80 Reward Pts
---
Other products related to Fish Oils
Pharmaceutical grade pure marine oil capsules
Nutritional Information
Average per 2 capsules
% EC NRV*
Omega-3 Fish Oil
1080mg
---
Providing
EPA
355mg
---
DHA
235mg
---
Vitamin E (Natural source)
11mg α-TE
92

*NRV = Nutrient Reference Value, mg = milligram
Ingredients
Omega-3 Fish Oil (from Fish), Capsule Shell (Pharmaceutical Grade Gelatin, Glycerin, Orange Flavour), Vitamin E (D-Alpha-Tocopherol) (from Soya). Allergy Advice: For allergens, see ingredients in bold.
Directions
TWO CAPSULES PER DAY, preferably with a meal and a drink such as milk or orange juice. Do not exceed the recommended intake.
From sustainable fisheries
Molecular distillation purification process
No artificial colours
Gluten free
No starch
No preservatives
No sugar or yeast
A rich source of Omega-3 fatty acids (EPA & DHA)
Ultra Omega-3 is not tested on animals
Food Supplement
Food supplements must not replace a varied and balanced diet and a healthy lifestyle. As with other food supplements, seek professional advice before using if you are under medical supervision, pregnant, breast-feeding, suffer from food allergies, or are allergic to any of the ingredients. If you are taking oral anticoagulants (blood thinning medication) do not take these capsules except on the advice of a doctor. Contains high purity fish oil. Allergy Advice: For allergens, see ingredients in bold. PROTECT FROM SUNLIGHT AND DIRECT HEAT. STORE BELOW 25°C IN A DRY PLACE, OUT OF SIGHT AND REACH OF CHILDREN.
Ultra Omega-3 FAQ
---
Why has Ultra Fish Oils been developed?
Ultra Fish Oils is a range of fish oils designed to meet the highest quality standards required by Vitabiotic customers. These high-grade oils provide rich sources of the essential fatty acids, DHA (Docosahexaenoic acid) and EPA (Eicosapentaenoic acid) to help maintain all round wellbeing. DHA contributes to the maintenance of normal vision and brain function . DHA & EPA contribute to the normal function of the heart .
Top
What are Omega-3 EPA and DHA fatty acids?
Omega-3 Docosahexaenoic Acid (DHA) and Eicosapentaenoic Acid (EPA) are essential polyunsaturated fatty acids because they cannot be made by the body efficiently and therefore must be obtained from the diet. These beneficial Omega-3 fatty acids can be found in fish. Eating a diet rich in Omega-3 fatty acids or by taking a supplement such as Vitabiotics' Ultra Omega-3, may help to safeguard the body's requirement for Omega-3 fatty acids.
Top
Why not just eat plenty of oily fish?
Including oily fish in your diet, at least two portions a week is an important part of a well-balanced diet, and recommended by Government health officials. However concerns have been raised over the level of contaminants in some fish resulting from environmental pollution including heavy metals e.g. mercury as well as dioxins and PCB's (polychlorinated biphenyls).
Top
How do you make Ultra Fish Oils so pure?
The fish used to produce Ultra Fish Oils are sourced from sustainable fisheries in highly regulated clean sea environments where contaminants in fish are at their lowest. Each batch of fish oil used in Ultra Fish Oils goes through the Opti-Pure purification process to ensure the oil is carefully refined and filtered.
Top
When are Ultra Fish Oils recommended?
Ultra Fish Oils are recommended for men, women and children as a nutritional safeguard. A general decline in oily fish consumption among the population means that most individuals would be advised to take a fish oil supplement to help support their health. The Omega-3 fatty acids and vitamins in Ultra Fish Oils are particularly helpful for individuals with concerns about their heart, brain and vision.
Top
Can Ultra Fish Oils be used during pregnancy and breast-feeding?
During pregnancy, we recommend supplements specially formulated for this time, such as Vitabiotics' Pregnacare® Plus - the original formula Pregnacare® tablets containing a careful combination of 19 vitamins and minerals, along with a specially formulated Omega-3 capsule for pregnancy (with 300mg DHA), designed for use from before conception, throughout pregnancy and whilst breastfeeding.
Top
How many capsules does one pack of Ultra Omega-3 capsules contain?
Ultra Omega-3 capsules contains 60 capsules per pack. 2 capsules are recommended per day.
Top
How and when should Ultra Fish Oils be taken?
Two capsules per day are recommended with a meal and a drink such as milk or orange juice to optimise absorption. To help prevent any aftertaste, Ultra Omega-3 capsules incorporate an orange flavoured odourmask shell. Do not exceed the recommended intake.
Top
How should I store Ultra Omega-3?
The capsules are best stored at or below 25°C, protected from sunlight and direct heat. Keep out of sight and reach of children.
Top
How long does it take to experience any benefits?
Results vary amongst individuals, but in most cases we would expect the beneficial effects of Ultra Fish Oils to build over several weeks. There is no maximum length of time over which Ultra Fish Oils may be taken. A regular intake is recommended.
Top
Can Ultra Fish Oils be taken with medicines simultaneously?
Generally Ultra Fish Oils can be taken alongside medications. However, for specific advice on taking Ultra Fish Oils with medicines, we recommend that you contact your doctor or pharmacist first.
Top
Is Ultra Fish Oils recommended with any other Vitabiotics' product(s)?
Ultra Fish Oils can be used alongside the majority of Vitabiotics' products.
Top
Are there any undesired effects whilst taking Ultra Fish Oils?
Ultra Fish Oils has no known side-effects when taken as directed. As with other supplements, seek professional advice before using if you are pregnant, breastfeeding or suffer from food allergies, or are allergic to fish or fish products. If you have epilepsy or are taking oral anti-coagulants (blood thinners) consult your doctor or pharmacist before using this product.
Top
Is Ultra Fish Oils suitable for vegetarians?
No. Ultra Fish Oils is not suitable for vegetarians as it contains fish oil in a pharmaceutical grade gelatin capsule. Adults can obtain DHA and EPA indirectly through the conversion of the essential fatty acid Alpha-Linolenic acid (ALA), present in vegetable oils such as linseed but this process is very inefficient. Ultra Fish Oil contains fish oil as it provides a much more reliable, direct source of DHA and EPA.
Top
What are the active ingredients?
Please see nutritional information click here
Top
Difficulty swallowing tablets or capsules is fairly common - do you have any advice?
Difficulty in swallowing tablets is quite a common experience. Vitabiotics have researched this extensively, trying different methods, and hope that our tips will help you swallow tablets with ease.

The usual advice for those who have difficulty in swallowing tablets, is to break the tablets into 2-3 pieces, before swallowing with plenty of liquid. For capsules (which contain liquid), and in cases where people have more difficulty in swallowing tablets we recommend after chewing some food (e.g. banana), just before you swallow, pop the tablet into your mouth and swallow it together with the chewed food, followed by some liquid. The throat opens up wider automatically to swallow the chewed food and hence the tablet should go down with greater ease. Alternatively the tablets or capsules may be swallowed with thicker liquids such as yoghurts or smoothies. We hope these tips are of help.
Top
Some Nutrient Reference Value (NRV) levels are above 100%, is this safe?
Certain vitamins are very safe at levels tens or even hundreds of times the NRV, whereas for others the safety level is much closer to the NRV. For this reason every vitamin and mineral needs to considered on an individual basis in terms of its upper safe level.

The Nutrient Reference Value (NRV) is the amount of a vitamin or mineral which has been calculated to help prevent basic deficiency states in the general population. However, certain vitamins and minerals at optimal levels, above the NRV, have consistently been shown to have positive benefits in specific areas of health. This is why some Vitabiotics formulas have certain nutrient levels greater than 100% NRV.

All Vitabiotics products have been developed using the latest research and contain effective levels of vitamins and minerals, while avoiding any excessive amounts, in accordance with official upper safe limits for vitamins and minerals.

Vitabiotics avoids 'mega dose' levels of isolated nutrients and instead we have always stressed the importance of safe, moderate and sensible levels of vitamins and minerals, carefully balanced to maximise their combined effect an approach which has been supported by many experts and researchers over the years.
Top
---
"I have been taking Ultra Vit B Complex for 1 week now. I take 1 tablet every morning upon waking up then have breakfast 1hr later. I feel fantastic and full of energy all day, I recommend these tablets to everyone."Mr M A , United Kingdom
"I ordered the Vit B Complex after tests showed deficiency in B Vits. I have only been taking them for 2 weeks but the difference in my health has been truly amazing. Since it's only been 2 weeks, I know I haven't had the full benefits yet (as it's recommended around 2 months) but I have ordered another 3 packs on the fabulous '3 for 2' offer. Oh! I am sleeping so much better too. Highly recommend giving these a try."Mrs J P , United Kingdom
"Within a week of taking them I was sleeping so much better."Ms B Beccy , United Kingdom
"I've been taking Ultra Sage for all most a year. I would recommend it to anyone who is currently going through the menopause. ''Brilliant'' thank you."Mrs J Eaton , United Kingdom
"I decided to try Ultra Bilberry, Lutein and Zeaxanthin tablets (already aware that bilberries are good for your eyes) and see if they made any difference. I'm delighted to be able to say that there has been a distinct improvement. Thank you for an excellent product."Miss Z , United Kingdom
Jemiah Umolu is a true up and coming football star of the future! At just nine years old, he is already signed by Arsenal FC to play in their Under 12 team and is rated one of their best in his age group. Jemiah is a convert to Vitabiotics and this is his father's testimonial…
"Roughly eight weeks ago my son was registered injured by his football club, Arsenal FC. He was advised to have three to six months rest from all sport. Given he plays for a professional academy, he couldn't afford to take this amount of time off. A week later he started a course of Vitabiotics Jointace, Osteocare and Ultra Omega 3, and just three weeks later he was himself once again. He has and will remain taking Jointace and other Vitabiotics products to maintain healthy joints, teeth and bones as he is still growing." Mr J Umolu , United Kingdom
"I cannot recommend Vitabiotics Ultra Krill Oil enough. I have been taken them for 6 months they are great. I have told my doctor about what they have done for me. I have never recommend any thing before but these I feel I must tell you"Mrs M S , United Kingdom
"I cannot recommend these enough! They support so many functions of the body, and this is the perfect level (I take 2 each day). They are individually sealed for freshness, and the price is perfect for the amount provided."Mr J Glassey , United Kingdom