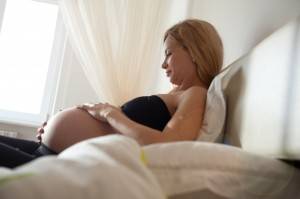 If you're pregnant, did you know that it's possible to help save the lives of other people just by donating your placenta?
The Anthony Nolan Trust - the UK's blood cancer charity and bone marrow register - runs placenta donation scheme in a bid to help those in desperate medical need. If you consent to donate yours, after you've given birth it is collected from the delivery room and life-saving stem cells are harvested from the umbilical cord blood. These cells are then frozen, ready to be used to potentially save someone's life.
Children and adults with blood cancers - such as leukaemia - need these healthy cells to replace their own damaged cells. As the cord blood is frozen, it is available immediately, and unlike with organ donations, donors and recipients don't need to be an exact match, so it is a good option for people with more unusual tissue types.
The cord blood donation scheme is currently available in seven hospitals across the UK, with news in the past week that it is being extended to the Queen's Medical Centre and Nottingham City Hospital in the north of England.
So would you do it? It sounds complicated, but as you've already given birth the process is pain and effort-free as someone will discreetly come into the room to remove the placenta. Most women will be too busy with their baby to notice a thing, and there's no impact on the health of you or your newborn. And unless you plan to eat your placenta afterwards, it will just be thrown away anyway.
The scheme had just been set up when I gave birth to my daughter two years ago (at King's College Hospital in south London). It's an amazing thought that you could save the lives of others using the means that has nurtured and kept your own child alive for nine months. It's a fantastic scheme that will hopefully become available in more hospitals over the next few years.
Find out more on the Anthony Nolan site.
If this scheme was available in a hospital you gave birth in, would you be willing to take part?
Gillian blogs over at A Baby on Board about London life as a new mum, covering everything from baby clothes to beauty products and breastfeeding. She lives with her two-year-old daughter Eliza and husband Alex in south London.