What's life really like as a working mum? This month we've spoken to Laura, Fozia, Rachel, and Anna to find out all the details about career changes, childcare and coping with the logistics of juggling a job along with motherhood.
Last in our series of working mum profiles is me - Gill from A Baby on Board - talking about my decision to go freelance when faced with the inflexibility of my old job.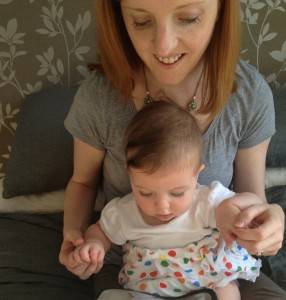 Pre-maternity leave, where did you work? And what do you do now?
Before I became a mum I worked full time for the digital arm of a London PR agency. After I had my daughter I wanted a job that was part-time with flexible hours that would allow me to spend as much time with her as possible. I took the decision to turn freelance when my maternity leave ended, as this was the best option to enable me to have all this.
I now work part-time, three days a week. My work is mainly from home, with some days in the office.
What type of childcare do you use?
After weighing up all the options, we decided to send my daughter to a local private nursery for a few days each week. We preferred the nursery as there are such brilliant facilities (adventure playground garden, lots of toys, and a higher staff ratio). Having one of her grans look after her would be ideal, but unfortunately we don't live close enough to any of our family to do this.
What's the most tricky thing about being a working mum?
The guilt! I swore to myself that I wouldn't make this an issue, but Eliza took a while to settle in the mornings she went to nursery, and it was heart wrenching having to leave her. Sometimes I just feel awful that someone else is looking after my child. But she loves nursery, and I love the work I do.
It's also hard to make yourself concentrate when you've had a night of broken sleep. Working from home, I do miss the office banter and having people to bounce ideas off and discuss last night's TV. That said, the benefits are far greater so I can't really complain (and there's always Twitter!)
And what are the benefits?
Working part-time feels like we've struck a good balance all round for everyone. I'm able to have a long weekend and short working week and spend as much time as possible with my daughter and husband. She's flourished in the nursery environment and comes home covered in paint and food, chatting away about her friends. I love the work I do, and I think it helps me as a mum to concentrate for a while on something absorbing and creative that's not just baby-related.
And how do you still find time for yourself?
The concept of 'me time' now is completely different. Whereas before it was all about nights out, long lie-ins, and whole days spent doing whatever I fancied, now it's about grabbing time when I can. I wrote a piece about
breastfeeding and social media
where I said I used to use the long night feeds to catch-up on blogs and writing posts. It gets easier when babies get older, as you get your evenings back. And I never thought I'd say this, but I do find work relaxing - when you've had a bad day or terrible night it's almost like having a break!
Gillian blogs over at A Baby on Board about London life as a new mum, covering everything from baby clothes to breastfeeding.
She lives with her one year old daughter Eliza and husband Alex in south London.