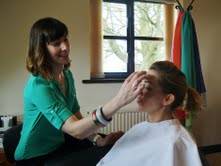 Did you go back to your old job when maternity leave ended, or did you retrain to do something completely different?
This month we're focusing on the work lives of all our bloggers. We've spoken to Laura, Fozia and Rachel, and now it's the turn of Anna, mum, image consultant and fashion blogger over at www.byannaelizabeth.com. Following the birth of her son, Anna retrained and started her own business. Read more about how she did it:
Hi Anna! Pre-maternity leave, what was your job? And what do you do now?
Before I had my first baby I worked in marketing for a big electrical haircare manufacturer. My role was fast-paced and involved long hours with lots of travel, I absolutely loved it, however it was not the type of job that would have been possible once I had a family as the demands and hours were just too great.
After I had my first child in May 2011 I decided that I needed a job with more flexibility, so I trained with Colour Me Beautiful to become an image consultant. I have always had a passion for clothes and fashion and it felt like a great fit. Since then I haven't' looked back! I set up 'image by anna elizabeth' in December 2012 and am now self-employed as an image, style and beauty consultant. I work part time from my studio near Ilkley in Leeds seeing clients for image makeovers and colour consultations.
Earlier this year I decided to expand my service offerings and trained with HD Brows to offer brow shaping services too. I'm currently training with CND (Creative Nail Design) to become a nail technician and very soon clients will be able to come to me for a whole range of nail services including gel enhancements, Shellac and natural manicures/pedicures. My goal is to help women look and feel amazing every single day by giving them knowledge about how to dress and make themselves up to suit their colouring and body shape. It's not about being a size 0 or spending lots of money on designer clothes, it's about learning how to dress to suit your colouring, body shape and personality - if you truly understand these things you will look fabulous!
All of the services I offer are tailored to the individual - so you'll get a brow shape to suit your specific face shape (not just a 'one size fits all approach) and a nail colour compliment your skin tone and personality. The image and colour consultations are probably my favourite service - helping women discover which colours make their eyes sparkle and their skin glow, or how to dress to show off their figure (or hide the bits they'd rather not show) is always a lot of fun and very rewarding.
What type of childcare do you use?
My son goes to a local nursery 2 days per week and spends a day each week with my Mum. The process of settling into nursery hasn't been an easy one and even after going twice a week for the past 4 months, he still cries when I drop him off. However the nursery staff always say that he's stopped within a minute of me walking out of the door and he always seems very happy when I go to collect him - I think he just likes to make me feel guilty!
I find the combination of nursery and a day a week with my Mum works brilliantly for him as he gets lots of social interaction with other children whilst he's at nursery and when he's with my Mum they go on all sorts of adventures.
What's the most tricky thing about being a working mum? What are the benefits?
Whenever I'm not with my son I'm wondering whether he's OK, if he's eating/sleeping/playing well, you can never truly switch off from Mummy-mode I don't think but I've learnt to focus on my work whilst I'm there, otherwise I wouldn't be very productive and the whole exercise would be pretty pointless! The trickiest thing about being a working Mum is trying to fit everything into my working day so that I can go and collect my son on time. I have a strict rule that I do not work in the evenings when my son is with me, that time is for him and he deserves my full attention, but that sometimes means I have to fire up the laptop after he's gone to bed some nights.
On the flip side I love my work and get a lot of pleasure from seeing my fledgling business start to grow, it gives me an added dimension to my life that I need in order to be a well-rounded human being and a good Mummy. Working part time I feel gives me the best of both worlds and I know I am so lucky to be in a position where I can do that.
And how do you still find time for yourself?
It can be tricky to find 'me' time but just a simple bubble bath or curling up with a good book after my son is in bed gives me a little quiet time. I try to get to the gym or do an exercise class at least twice a week to relieve a little stress and burn a few calories, this also gives my husband some one-on-one time with our son which they both love.
Anna is a Mum to one cheeky and mischievous baby boy, image consultant and fashion blogger over at www.byannaelizabeth.com
Trained and endorsed by industry leaders Colour Me Beautiful, Anna offers make-up lessons, colour analysis and style consultations at her studio near Ilkley, Leeds.