Continuing our September theme on work, life and finding a balance, here's Fozia on the major factors to consider before you return to work, and how part-time was the best option for her family after the birth of her first daughter.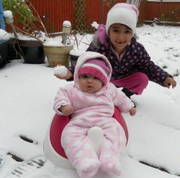 My year of maternity leave finished in July. However, I did not return to work as I was sadly made redundant in March of this year. I guess it was a blessing in disguise as I wasn't sure about returning to work this time round.
With my first daughter I returned after a year but to part time hours.
Returning to work after having a baby is difficult for most mothers and there are various factors that need to be considered:
Firstly, deciding when to return
Whether you want to return part time or full time
Finding appropriate childcare
The cost of childcare
Breastfeeding issues if you are still breastfeeding
When I discovered I was pregnant almost 8 years ago, I just knew I would return to work. I enjoyed it. I had only just graduated a few years back and was just developing my career, and at that time I wasn't overly maternal and couldn't see myself being a stay at home mum. To be blunt I just couldn't see myself knee deep in dirty nappies and baby vomit all the time. (I told you I wasn't very maternal!)
It wasn't just a simple matter of me wanting to return to work though, financially it was better if I did. My husband is from abroad and at that time my salary was much more than his. And with a new house and a new baby we needed the money. So in some ways it wasn't really a choice about whether I wanted to return.
So the first question is: when do you return to work after having a baby?
I returned after taking my full maternity leave and my baby was just short of being 1 year old. Obviously some women return to work earlier, either by choice or because circumstances mean she has to perhaps due to financial reasons. We were lucky enough to be able to just about manage on my husbands salary so I was off work a year. It allowed me to spend the first precious year of my daughters life with her.
My next questions were: what are the best childcare options for my family...and should I return full-time or part-time?
One of my main factors that made returning to work that little bit easier was my childcare options. Obviously there is a range of options, nursery, childminders, nannies. However, in all honesty I personally wasn't comfortable with leaving her with a stranger. My other concerns were her food, her food had to be halaal and its surprising how many items are not suitable for us to eat which people aren't aware of. Fortunately my parents were happy to keep her, provided I didn't return to work full time. They got to spend some quality time with their grandchild and spoil her rotten, while I got to return back to work. So everyone was happy.
My employers also made it easier for me to return to work. They were happy with my suggested hours and were relaxed when I needed to shuffle my hours around for any reason. So I never regretted my decision to return.
Returning to work isn't easy. You are having to leave your child behind and could possible miss out on some magic moments. But mothers do have a lot of rights which can help make things bearable, for example the option of flexible working. So it is always best to consider all your options in detail before you make your decisions.
What were the major factors you considered when you returned to work?
Fozia is a mum of 2 daughters. She was working as a legal adviser at the Citizens Advice Bureau but is currently a stay at home mum after being made redundant.
She blogs at Muslim Mummy about her life in general and all things relating to babies, toddlers and children.