Have you ever wondered about the story behind some of your favourite blogs, and what inspires people to write them? This month we're focusing on social media, and finding out more about what motivates our bloggers.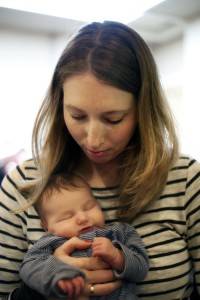 Next up is Rachel, who writes The Little Pip.
Tell us about your blog:
My blog is the Little Pip/ http://www.thelittlepip.com
I started this particular blog in September 2011 when I fell pregnant with Pip. I've blogged consistently since 2006 about my life in London, then getting married and now parenting. Journalling my life via the internet.
I update it as often as I can, which isn't always as frequently as I'd like, as real life usually gets in the way! I try not to manufacture things to do in life to blog about, so some weeks there is genuinely nothing interesting to share, although as I find the minutiae of life intriguing in others, I endeavour to share my own.
Why did you start your blog?
I actually started my first blog on 7 July 2006, after reading an article on the BBC news website about 7/7 survivors and their blogs. Maudlin, but I liked the concept of an on-line chronicle of my life, accessible from anywhere, which gave people a glimpse into my life in the way that I like getting a glimpse into other people's. Back then, people were more open, less cautious and more about the words than the images, or the social media aspect. It wasn't the very first wave of blogging but it was a very different epoch to the way blogs work now.
Which are your favourite and / or most popular posts?
A quick look through my most popular posts shows that My Birth Story (part one) is my most popular. I really should finish and post part two, which features the actual birth!
A surprisingly popular post was my response to those commenting on Kate Middleton's figure the day after she gave birth. I posted some photos of my own figure and celebrated the fact that she educated people the world over as to a post partum body.
Other popular posts have been about work and motherhood, about which I am passionate. The writing I have done about motherhood generally has been my favourite of my posts.
What's the best thing about blogging? And have you ever experienced any negativity?
I enjoy the opportunity to glimpse into people's lives. A bit like peeking through a partly open doorway or into a little courtyard, through a beautiful garden. I like blogging best when it is done honestly and openly. I fully understand the desire to monetise and create value, and do this myself, however I like to understand the relationship and reason why the person is sharing. I like learning about other people's cultures, traditions and reasons for doing things. I also enjoy the community and friendships (and support of the same) that I have made both on line and in real life.
Once or twice I have received negative comments but generally speaking I don't think I publish anything too controversial. I tend to think about whether I would be happy saying things face to face, or to my mother, before hitting publish. I actually welcome reading constructive criticism and discussion as I think it keeps you thinking rather than just believing your own (or others) hype.
Which other blogs do you read?
I read a myriad of blogs too great to list here! That said, I'm always on the look out for something well written, interesting and beautiful, so some of my every day reads include libertylondongirl.com (fashion insights and every day life in London) and www.junkaholique.com (living in London & now Isle of Wight, crafting, parenting etc). I also like http://www.tigerlillyquinn.com/ (life in Bristol & parenting) and http://the-home-bird.blogspot.co.uk/ (life & crafting).
I also love  
http://diamondgeezer.blogspot.co.uk/
which is not beautiful but it is one of my original favourites (living in London, male perspective, really interesting if a touch geeky - features lots of things you didn't know about London and facts and figures).
Thanks Rachel! You can also read what inspires other bloggers in the rest of our series here.