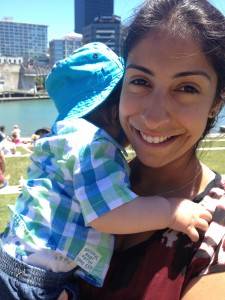 Next up in our series of blogger profiles is Kiran, who writes the blog Mummy Says.
Kiran is a freelance writer, journalist and blogger who recently returned to her hometown of London after nearly a decade of living overseas. She is mum to two, and blogged all about her second pregnancy for us last year.
Hello Kiran, tell us about your blog
I blog over at Mummy Says - and have been writing there since last June. I wrote another blog before that but it was very much focussed on my first baby and being a first time mum. When I got pregnant again and we moved back to the UK from New Zealand, I felt like I'd outgrown my older blog and it was time to start a new one. I write about five posts a week and my inspiration comes from my children of course, but also life in general. Things I see in the news, parenting trends, life in London - all of these things work their way into my blog.
Why did you start your blog?
I love writing and I've made my living out of doing it for nearly a decade. But when I had my first baby and went on maternity leave I really missed having a creative outlet for myself. And so, I started to blog.
What's your favourite and / or most popular posts?
One of my most popular posts is "I'm a rubbish friend". I think it's because it's about sentiments so many mums can relate to!
What's the best thing about blogging? And have you ever experienced any negativity?
I love the conversations that get started in comments on posts, and I love the community there is around blogging. I haven't encountered negativity on my personal blog but I have on one of the parenting blogs I write for a major news organisation in New Zealand. It's always hurtful, but as bloggers we are putting ourselves out there and sadly are open to negative comments too.
Which other blogs do you read?
I'm a big fan of parenting blogs, but I also like cooking blogs.