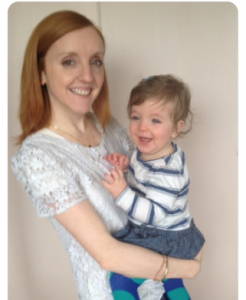 Over the past few weeks, we've been busy profiling all of our bloggers to find out more about them and what inspires them to write. Here's the final instalment in our series:
Tell us about your blog:
My blog is called A Baby on Board (www.ababyonboard.com) and it's about my life as a mum in London. I write about anything and everything to do with looking after my toddler daughter - from baby clothes, to beauty products and breastfeeding.
I wanted the name of my blog to represent my life in London and also the motherhood journey, so it's named after the 'baby on board' badges given out to pregnant women on the tube, trains and busses (I never actually got one for myself though!).
I'm always drawn to blogs where people talk honestly about their experiences, with lots of warmth and humour, and this is what I try to do - to document both the good and the not-so-great events of modern motherhood.
Why did you start your blog?
I've blogged on and off for years under various guises, but never had a particular focus. Pre-maternity leave I worked in digital PR and was really drawn to parenting blogs - I love the way that blogging gives everyone a voice, and the way that parenting blogging reclaims traditional ideas of the domestic, and also gives such interesting insight into people's lives. So when I was pregnant I decided to set up a site of my own. Two years later, here we are.
Which are your favourite and most popular posts?
One of my most popular posts is one I wrote giving advice to my formerly pregnant self, on the eve of giving birth. My posts about London are among my most viewed, including how to travel on London's public transport with a baby.
My favourite posts are Hey there Eliza – a letter to my 18 year old daughter, two lists I wrote - Ten things to do before you have a baby / ten great things you can only do once you're a parent - a post called Flat out, about leaving our old house and one I wrote on post-natal depletion.
What's the best thing about blogging? And have you ever experienced any negativity?
The best things about blogging are the brilliant and inspiring people I've met and the doors it's opened for me. And it still amazes me that people read what I write, even if it's about something ridiculous like not being able to make a birthday cake.
I'm lucky that I've never experienced any negativity. Parenting is one of those divisive subjects on which people that can get really heated, and there can be a lot of in-fighting (I try to stay out of it).
What other blogs do you read?
I love reading blogs and read hundreds - everything from the blogs of all the TalkMum bloggers - to other parenting, lifestyle, fashion and beauty blogs.