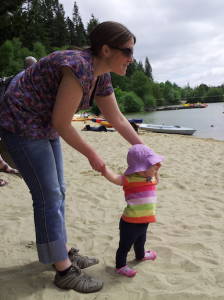 Over the past few weeks we've been finding out more about all our bloggers, including why they blog, what inspires them to write, and other blogs they like to read.
Next up is a new TalkMum blogger, Clare from Mummy's to do list, so make sure you say hello.
Welcome to TalkMum, and tell us about your blog:
My blog is called Mummy's to do list and I started it in October 2013, making me a relative newbie. It existed in my head for many months before this! The name, as you may guess, comes from my penchant for making lists – and starting the blog sat on one of these for far too long.
I write about life as a working mum to a toddler. This can include many subject areas. We both love reading, so we cover books quite a bit. And, as I'm a bit of a worrier, I'm keen on exploring new ways to relax, as well as being on a permanent quest to embrace positive thinking.
I'm trying to write posts 2-3 times a week. My daughter is my biggest inspiration but I find the shower's a good place to come up with new ideas too! I've also started this year by joining in with some linkys, which are great fun and help take some of the pressure off. It's always interesting to see how other bloggers have treated the same subject.
Why did you start your blog?
I love writing. My blog is a place where I can write about whatever I want to, however I want to, whereas my job sees me writing for other people. It's also great to record what's going on in our lives.
What's your favourite and / or most popular posts?
My favourite so far is this recent one about the lists my husband and I wrote when our daughter was a newborn: Notes of a new mum - my best ever list.
What's the best thing about blogging?
I'm loving immersing myself in a virtual community of like-minded people and learning new skills. It's great to connect with other parents to share tips, ideas and even commiserations after a bad day.
And have you ever experienced any negativity?
Thankfully, none so far. I've found the parent blogger community to be very friendly and supportive.
Which other blogs do you read?
The first two blogs I regularly read were A Baby on Board and Mummy Says, both of which are written by mums with toddlers a similar age to mine. I take part in the Word of the Week linky over on The Reading Residence and the 300 Picture Book Challenge run by Child-Led Chaos. For children's books I also like Story Snug and I'm enjoying following My Petit Canard who is a newer blogger like me. For irreverent humour and a bit of the bizarre, I dip into The Bloggess.