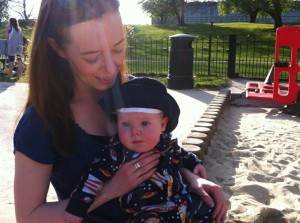 Hi Chloe, tell us all about your blog:
My blog,
Knittenden
(knittenden.blogspot.co.uk), was originally intended to be a place for me to post my latest incompetent knitting efforts. That's where its witty name comes from (I'm called Chloe Chittenden and I knit. Geddit? GEDDIT?!). However, I soon realised that given the fact it took me six months to knit a single cushion cover, the posts weren't really flowing thick and fast. When I had a baby 14 months' ago, the knitting needles got packed away, but the blog found a new lease of life with me banging on about the weird and wonderful (but mainly weird) aspects of motherhood in London. I write about whatever I'm thinking about that day. Unfortunately the thing I tend to think about most days is 'why did I wear holey socks to playgroup again?'. If you're after a blog that covers the big issues, then mine ain't it.
Why did you start it?
I'm a copywriter, so I've always loved telling stories and during maternity leave I really started to miss writing. Writing a blog turned out to be the perfect activity for me as it was something that I could fit in during nap times. It also quickly became a space where I could happily bore on about the wonder of my son, over-share photos of him, and moan about the tough days to my heart's content. Essentially, my blog has saved me from being repeatedly unfriended on Facebook.
What's the best thing about blogging? And have you ever experienced any negativity?
I've never experienced any negativity, however given that the two things I write about most are socks and baby poo, my blog does lack a certain controversial edge. The best thing about blogging is hearing that something you've written has struck a chord with someone. It's always lovely to hear that a post has made someone laugh. And whenever I write anything relating to how difficult parenting can be, it's amazing how often people get in touch to say they're in the same boat. Motherhood can sometimes be lonely, but you never feel alone when you blog.
Which other blogs do you read?
Loads, but the blogs that constantly inspire and delight me are: A Baby on Board, make a long story short, Tigerlilly Quinn, More Than Toast and Hey Natalie Jean.
Read some of Chloe's latest posts: D is for discipline and dumplings, her recap of 2013 in photos, and one which most parents can sympathise with, Yawn.