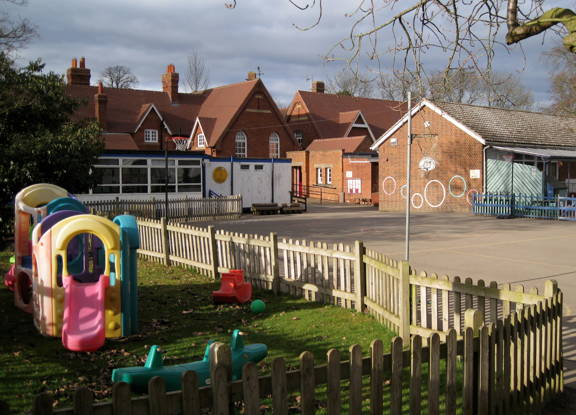 This month we're talking about early years education in all forms. Here's Fran from The Parent Social on how she coped when her eldest daughter started school.
We'd talked about it A LOT, but Sofia starting school didn't seem real until I bought logoed uniform from the school shop (cute cardigans, little tie, mini gym kit, school bag…) and had visited John Lewis to buy the grey pinafore dresses, white shirts and ankle socks.
Then after spending several evenings labelling it all and hanging it up ready, it suddenly was very real.
Sofia had been looking forward to school for ages. She loved her two days at nursery very much, but she was certainly ready for the next stage. I was very excited about this new chapter for her, and I knew she was going to love it, but the idea of her starting school ignited conflicting emotions in me. My twins were just coming up two, and I thought I'd welcome having one less child to entertain on a daily basis.
However, as her start date drew closer, as well as selfish worries about the logistics of the school run, I was sad that we would no longer have the freedom to go where we wanted, whenever we wanted; no more quiet days out at our local haunts, just chaotic ones within the confines of the school holidays. I'd no longer be able to choose our day-to-day schedule or wake up in the morning and spontaneously decide that we'd go on a mystery tour somewhere.
Then the inevitable mum guilt crept in. I started to think that maybe I hadn't done enough with her whilst we'd had the luxury of 'free time', but our car mileage was testament to the number of groups we attended, the amount of visiting we did and the array of excursions we went on. I'd always liked a clean, tidy house. Perhaps sometimes I should have forsaken unnecessary vacuuming for an extra story or an additional trip to the park?
In the lead up to D-day there were a plethora of forms to fill and dates to remember and attend. It sounds ridiculous, as I'm good at multitasking, but I actually found it fairly stressful. I think this was mainly because I was very eager to get things just right ahead of this important milestone.
Sofia meanwhile was taking it all in her stride, she barely gave a sideways glance when I left her for the first time for an hour in what was going to be her new class. For her first day, my husband Matt took the day off work. It was a 9.45am start so we had a leisurely breakfast before I went upstairs and helped get Sofia into her uniform: a real rite of passage. We came back down and had a little photo shoot (obviously I did the obligatory posting onto Facebook).
She couldn't wait to get there and so we ended up arriving a bit early. The Deputy Head greeted us personally. I hadn't realised that each child had a designated slot, so it was a nice surprise to have this time dedicated to us. Also, just nine other children were starting in her class that day, so it was a very gentle introduction, which was reassuring for me. We were escorted to the cloakroom, given a run through of what she needed to do and were then taken to Sofia's class and delivered to her teacher. Sofia's teacher immediately introduced her to the morning routine, had a few comforting words to say to us, and then that was it, we said goodbye. It was a slick operation but carried out in a very compassionate manner. I had absolutely no worries about leaving her.
It was a 12pm pick up, so in no time at all we were on our way back to collect her. Sofia could barely contain herself and was gabbling in excitement about all the things she'd done.
I was panicking a bit on her second day. This time it wasn't the bubble of a designated slot with a lovely meet and greet. Instead it was the bun fight of the school run and I didn't know what gate to queue up at and what the protocol was. I was stressing, so much so that we left very early. We were second out of the entire school at the gate. I asked the lady in front what the procedure was. She was with her grandson and had no idea. Then a kindly mum behind overheard and said that for Sofia's class the other gate was the best. Phew. I knew what we were doing and no longer felt like the 'new girl'.
Three days in and I was actually feeling slightly overawed, not about Sofia settling in, she'd taken to it brilliantly, but about what I needed to do and how I needed to organise things. I didn't get the memo about bringing in photos from their summer holidays, so I did an emergency order with Truprint. On Sofia's first day I received a letter about the first PTA meeting and another about Jeans for Genes day. Then there was a reading meeting. The September newsletter included all of the important dates for the Autumn term and was two pages long: meetings, assemblies, quiz nights, costumes to be made, harvest festival; not to mention the Christmas activities. Then there was the NHS questionnaire. My head was spinning!
However, the main thing was, the whole process was managed very well by the school, and after a week of half days, Sofia slipped seamlessly into full days and has loved it ever since.
A year on and I've just about got my head around everything.
Have any of your children started school this month? How did you cope? Leave a comment and let us know. Image: Robin Stott (own work) via Wikimedia Commons CC 2.0