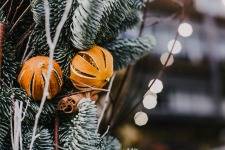 TalkMum blogger Rachel from Make A Long Story Short on her favourite festive traditions... and when they go too far.
When you are the mother of small children, holidays matter. You might have to deal with trolley tantrums and carpet piddles, but you do get Easter egg hunts and Bonfire Night sparkler rampages as compensation. One of the best things about being a parent is being able to decide the traditions you keep from each of your families, and the ones you invent for your very own. I plotted traditions for years before we even had children. These are the moments you live for. They are definitely the moments you paste all over Instagram. (Keep your carpet piddle photos OFF MY FEED.)
I've noticed something about our traditions, though. They tend to escalate. Nowhere is this more obvious than at Christmas, the tinsel-wearing mother-king of holidays. Something about the pressure of repetition and the need to make sure everyone is having a good time makes our Christmas schedule get more elaborate every year. Here are five of our Christmas traditions that started simply and spontaneously, and have since run away from me, laughing manically:
1. Christmas pyjamas
We always got new pyjamas for Christmas. I have a camcorder video of eight-year-old me, my sister and my mum sat together on Christmas evening, wearing matching satin pyjamas like we're lighting up an eighties Kylie Minogue video. One year in our teens we laughed and took a couple of photographs. Fast-forward to today: every Christmas Eve there are matching pyjamas for all of us, and we're now adults, and we are taking part in an HOUR-LONG PHOTO SHOOT AND SOMETIMES THE PYJAMAS ARE MONOGRAMMED. We look like we're auditioning for the Matalan catalogue. It is glorious and completely bonkers. Then we go out for Chinese while wearing them. I feel like Kylie would approve.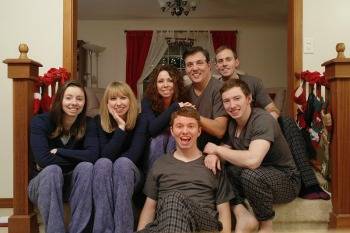 2. Making sugar cookies
We instigated this the first year our eldest could wield a rolling pin. It was fun. We gave a plateful away that first year, then did little bags for the neighbours the second year. This year we're in a new neighbourhood: suddenly I feel all this pressure to make delicious cookies that a) don't look like one of us vomited on them and b) might make up for the fact that the new family on the corner spends most of its time making a lot of noise. All this with two little boys getting stuck in with the rolling pin. They will have a fantastic time. Please pray for me.
3. Christmas card photo
What a great idea! A record of how we grow from year to year! A convenient, speedy alternative to writing a thousand Christmas cards! And yet, last year: picture us in clothes we can only wear for ten minutes, because we are spending Christmas with family and I need to pack them, yelling 'SAY CHEESE' while streaming Pingu off-camera for our eldest and stemming projectile baby sick from our six-month-old. It was ridiculous. They'll like to look back at these later, right? They'll get better at smiling simultaneously, right? We're not quite straddling hay bales in matching denim, yet, but give us time.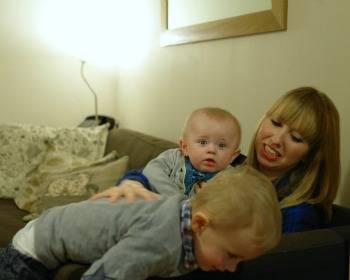 4. The Muppet Christmas Carol
This is the best Christmas film ever made, bar Home Alone, and I will scrap with anyone who says otherwise. When I was little we'd happily watch it all year round. Now it's become a staple of our Christmas season: just the opening music makes me feel like December has come to wrap a warm blanket around my shoulders. There must be hot chocolate, there must be sing-a-long, there must be sincere verbal appreciation of Michael Caine's immense Victorian wig. If you don't join in with the Ghost of Christmas Present's little shoulder dance then I don't even know what to say to you.
It might be stressful at times, but I love it. It feels like we're laying foundations our boys will build on with their own families in years to come, when they'll get to choose which traditions to take forward and which to invent for themselves. Let's hope we're still wearing matching pyjamas by then.
5. The Christmas Tree video
A couple of years ago we were about to decorate our tree, a very excitable 18-month-old already trying to eat the pine needles, when we said 'hey, why don't we video it?' We did, and afterwards, on a whim, sped up the film so it was watchable and put a Christmas song in the background. Thus the Christmas Tree Video was born. Now I stress about finding a song that isn't too ubiquitous but won't make us look like try-hards, and spend a week planning the laundry around what I want them to wear. We love watching them so much, though. I'm not sorry.