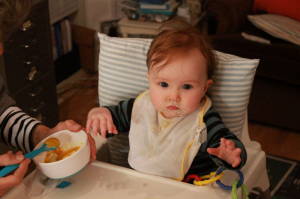 Having a baby can be a pretty expensive business, with the average cost of raising a child to the age of 21 soaring to a staggering £222,458 - that's 58% more than a decade ago. And as with any new stage, baby weaning presents a whole range of new products on the market available to buy. But what's actually essential? Here's Rachel's weaning survival guide:
Writing about weaning is one of the topics that I've struggled with; it's so personal to one's child and lifestyle and being, and I'm not an expert in nutrition either. That said, there's a lot of kit that we've found to be useful, so here's a list:
Highchair: There are many highchairs available, but we went with a plain white Ikea one. it's easy to use and even easier to clean. We put an oilcloth over our table and just pull the high chair up to the table. when Pip was too small for it, we used a small cushion behind her
Bibs: We use a double layering system - plain waterproof backed bib or long sleeved bib (depending on food being consumed) with a tommee tippee explora roll up bib over the top, which catches food (with the twin added advantages of being able to be cleaned by washing it up and rolled up to take out)
Bowls, plates and cutlery - we started with OXO bowls and bought a plate from the same range too. I liked these because they are weighted and have good sides and also a lid which snaps on, turning it into a handy pot. We used a mixture of tommee tippee and Ikea spoons to start with. In particular, the angle of the ikea spoons were great for helping feed Pip porridge. Now she is older, we use this Petit Jour Paris cutlery set as well as plates by the same company
Other things - we use a variety of different cups (including a Doidy and an open cup as well as the usual sippy cups) all of which Pip has been capable of using by herself since about 8 months. We also like the Brother Max weaning pots and have them in both sizes. they are excellent for storing or freezing puree and then small meal portions in, and can go in the microwave and dishwasher, with the lids remaining attached. They are also useful for carrying small portions of say raisins, or milk powder in. we have found a lunch bag to be extremely useful. I keep ours packed with little snacks, milk powder, emergency packs of puree, bib, spoons etc and then I know I can feed Pip wherever we are.
What were your weaning must-haves? What couldn't you live without, and is there anything you regret buying?
Rachel blogs at www.thelittlepip.com about surviving motherhood and living in London with a baby.
She lives in North London with her husband, 10 month old baby Pip and their cat Delilah.