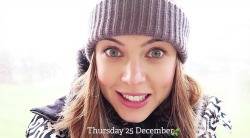 It's not all about Zoella over on YouTube... these mums are making waves with their videos too
100 hours of video are uploaded to YouTube every minute, but with much of that being people opening Kinder Eggs (that's an actual thing, you know) or content that's NSFW (not safe for work) how do you find videos that are relevant to you?
More and more mums are starting to make videos and vlog about their lives. Some talk to camera, in the style of Zoella, and some film their family and set it all to nice music, but the one thing lots of them have in common: they're all very compelling to watch. There's something so interesting about another person's family and daily life. It's a bit like we've moved on from watching soap operas to reality TV and now to real people in their homes.
Here are our favourite vlogging mums on YouTube...
1. My Two Mums
Kirsty and Clara blog about their life with their toddler son and recently started vlogging every day. Watch them go on days out to the seaside, grab pizza and brave soft play centres - it's all caught on camera.
2. Hannah Maggs
Mum to baby Gracie and friend of Zoella, Hannah and her husband Stef make a video diary each week, and we love it because the videos are so brilliantly made. Gracie also happens to be super cute.
Katie is another one who knows how to edit a great video. She films her adventures with her two daughters and hubby, from beach holidays to bike rides in the park, we could watch them all day.
4. Mum Talk TV
A channel set up by six mums, it covers everything from food and fashion to parenting and health. We love this video which shares tips from teacher Emma on dealing with stroppy tots.
5. Molly Forbes
Molly's fairly new to vlogging, but we love this video on her bedtime routine with her baby girl. She's also got a four-year-old and has captured days out and holidays on film.
Mum to two-year-old Max, Natasha films her every day adventures with her son and uploads a new vlog each week. She also touches on beauty and fashion too, which we like.
Shop owner, blogger and mum, Fritha also makes a mean video. This video of her honeymoon in Paris made us hanker after a croissant and she has more great videos on her YouTube channel.
If you've got a favourite YouTube vlogger, share with us by commenting below! Happy watching...