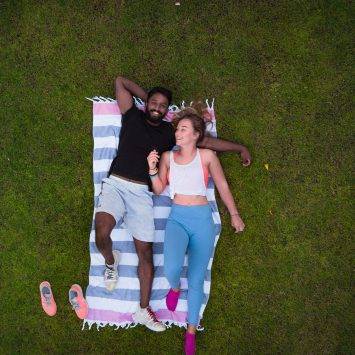 Are you thinking of trying for a 2019 baby? If trying to conceive is on the cards this year, make sure you think about these five things first
It's natural to make resolutions and changes with the start of a new year. And for many people, this may involve deciding to try to start or expand their family.
And if you have you made the decision to try for a 2019 baby, you might have a lot of questions, ranging from how long it will take for you to get a positive result, to if there's anything else you need to do health-wise. Or, you might just be keen to get started straight away.
Taking the big step to towards trying to conceive (or TTC as it is commonly known online - read our list of fertility abbreviations) - is a big step for any couple to take. Making the decision to go from two to three, or more, can feel exciting, exhilarating, daunting - but if you're starting now or later on in the year, make sure you think about these five things first:
If you are thinking of trying for a 2019 baby, here are five things to think about first:
Take folic acid now! It's recommended that you take a daily supplement containing 400μg of folic acid for at least one month before you fall pregnant, and up to three months after conception. In addition, it can be beneficial to take folic acid at least three months before you start trying to conceive, to safeguard nutritional stores, and continuing beyond week 12 of pregnancy, since folate contributes to maternal tissue growth (here are some more folic acid facts that might surprise you).
And it's not just folic acid - research also shows taking vitamin B12 alongside folic acid, is more effective in preventing neural tube defects than taking folic acid alone.* Taking a supplement such as Pregnacare Conception which is specially formulated for before conception, will provide you with 400mcg folic acid, the exact level recommended by the UK Department of Health. Pregnacare Conception also provides 20mcg vitamin B12 plus other nutrients such as L-arginine, zinc, iodine and the recommended 10mcg vitamin D, which help support the nutritional requirements of women trying to conceive.
It's currently World Folic Acid Awareness Week, and we're giving away Pregnacare Conception to five TalkMum readers, so make sure you enter!
* Addition of Vitamin B12 to folic acid supplements to optimise the prevention of Spina Bifida and other Neural Tube Defects, Professor John M. Scott, Biomedical Sciences Institute, Trinity College, Dublin 2, Ireland
Come off contraception: It sounds obvious, right? If you use barrier contraception like condoms, then obviously it is very easy to stop. But if you use hormonal contraception, like the pill, it might take a bit longer than you think for your cycle to return to normal. Factor this into your decision about choosing when to stop, but also make sure you're not caught out earlier than you were planning. If you have been on the pill for a long time you may be low on certain vitamins and minerals - especially vitamin B complexes - which is something to take into account.
Think of your diet now, not just when you're pregnant: It's important to maintain a healthy diet during pregnancy, and this is also true of when you're trying for a baby. So start making healthy choices now; read our guide on what to eat when you are TTC. Current advice to pregnant women is to limit caffeine intake to below 300mg per day - so start cutting down now and say yes to herbal, low caffeine options instead. Make sure you're drinking enough water too, drinking about 8-10 cups a day will help 'clean out' your system and also increases fertile-quality cervical fluid.
Make positive lifestyle changes: While you can still go out and have fun, it is a good idea to avoid or strictly limit alcohol intake as this reduces fertility. Department of Health advice is to avoid alcohol completely if trying to conceive or during pregnancy (it acts like a poison, preventing the body from taking in essential minerals and vitamins that are needed for conception). Women have a 40% lower chance of getting pregnant if they smoke, according to a report published by the British Medical Association, and smoking also decreases sperm count and increases sperm abnormalities in men. Ask your GP for help with quitting. Exercise can be incredibly beneficial during pregnancy and can also help relieve stress, so find a gentle exercise routine you like now.
Keep track of your health: Lots of couples speak to their doctor before they TTC, for reassurance and to deal with any potential medical issues and if you are taking any prescription or over-the-counter drugs this is a good time to find out if it's safe to still take them once you start trying to conceive. Make sure that you have been properly screened for STDs too, as Pelvic Inflammatory Disease is common amongst women with the number-one cause being an untreated sexually transmitted disease. It's also useful to keep a note of the date when your period starts and the number of days it lasts. To get to know your cycle you can also download ovulation trackers which will tell you the signs to look out for that indicate ovulation is near, and also buy tester kits from the chemist - similar to pregnancy tests, these will tell you the optimum fertile time to try each month.
Are you thinking about trying for a 2019 baby? Best of luck! Make sure you also read about male fertility boosters and early signs of pregnancy