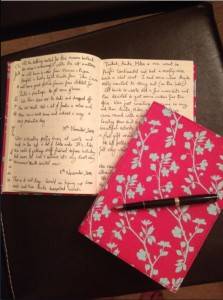 This month on TalkMum is all about birthdays, milestones and memories. It's often-repeated that when it comes to motherhood, the days are long, but the years are short - so what's the what's the best way of making sure you preserve the significant things that go on? Here's Fran on all the different ways that she's keeping a record of her children's milestones:
When I was a couple of weeks pregnant with my first baby I bought a modestly priced, pretty bound book from WH Smith. It wasn't actually a diary, but I wrote in it most days of the pregnancy. I charted day-to-day pregnancy stuff as well as all of the important dates and exciting developments such as first kicks, when my husband felt the first kick, scans, first maternity clothes shopping trip, first seat offered to me on the Tube etc. I also talked a lot about how I was feeling and worries that I had (of which there were many – why was the baby not moving as much as usual, why did I keep getting a funny twinge, had that meat actually been a bit pink??). It's wonderful to read back through and I'm immediately reminded of how excited I was. I cherished that diary so much that I did exactly the same for my next pregnancy. I actually have in writing the day I jokingly said: 'maybe it's twins' as I was getting big so fast!
I continued the diaries for the first few weeks after they were born and then did an entry at six months, at one-year, 18 months and then subsequent birthdays. I love reminiscing when I go back to put in a new entry. I will continue writing something for each birthday until they are all 18 and then I plan to give them as a gift. There are a few embarrassing notes in there (namely when I mentioned about having sex as a last ditch attempt to start labour when I was approaching 42 weeks), but overall I think it will be nice rather than irksome.
Just before Sofia was born I was bought a lovely baby book from Soul Sunshine. It has about 100 pages: some for adding photos of particular events and other specific pages to document everything from 'The Birth', who the baby looked like in the early days, how the baby slept at night, physical milestones and favourite foods to family tree, first hair cut (complete with area to stick said hair on), first holiday, first Christmas and so on. There's also space to log the details of the Christening/baby naming ceremony. It is great for 'organising' the memories, as it can be so easy to forget things in the blur of daily life. The sections aren't too long, so it's pleasurable to jot things down and doesn't feel like you are facing the daunting task of writing an essay. I loved it and bought two more from Soul Sunshine once the twins were born.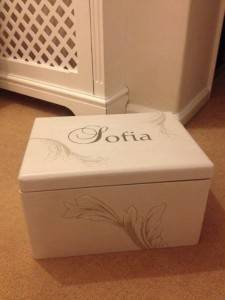 My husband also bought me leather-bound photograph albums with our daughters' names on them and I'm keeping a memory box for each girl. These have things in like their scans, new baby cards, gift tags off presents, the first babygros they wore in the hospital and their baby id bracelets from the hospital. I continue to add to these with bits and bobs such as first passport photos and mementoes from their first birthdays.
Facebook has been a huge part of preserving memories and a lot of photos end up on there long before I find the time to print them up and lovingly mount in the aforementioned photo albums. When photo-printing sites like Truprint do a special on 100 prints I suddenly have an album frenzy. I've found Facebook great for making online albums for all of them at a certain number of weeks, months and at particular events; often stuff that I wouldn't actually put in the formal albums (usually with one child picking their nose and another with their eyes shut) but memories I want to record all the same. It's also great for uploading all of those mobile pics. I do actually find that I do far more clicking on my iPhone than I do proper photo shoots with my camera. It's a shame in one sense, as I don't get the high res special shots, but great in another as I capture the spontaneous moments that I wouldn't have a camera handy for.
More recently blogging has been another great way to record different aspects of their lives and our life together.
With one it can be difficult to find the time to update books, add photos and record milestones, and with more than one even more so. I actually have to schedule time to do the books and albums. However, I keep notes on my phone about milestones so that I have them and then can record them properly when I get the time.
It's fantastic to preserve and capture these special memories and reminisce later on. Sofia is already at the stage where she loves looking at 'old' photos and keepsakes, which - in itself - is special.
I list all of the items I use for recording and preserving memories along with stockist details on www.theparentsocial.com, more details are available here.