Getting a good night's sleep when pregnant can be tricky; you're faced with intense dreams, restless legs, and a big and uncomfortable bump. New TalkMum blogger Sharmila has been trying out the Theraline Maternity Pillow, designed to offer comfort and support during pregnancy. So how did she get on?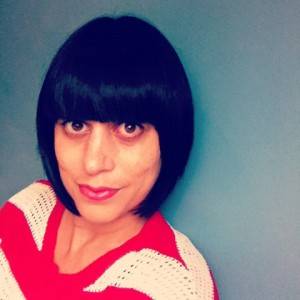 Second time around pregnancy seems to take its toll on the growing body a little quicker than the first time and never more so then at night when you are trying to get a good night's sleep.
For several weeks of pregnancy during the second trimester I was happy wedging a memory foam pillow between my legs and found it easy enough to roll from side to side without much effort. However as I moved into the third trimester getting comfortable at night became a whole lot harder especially in the hip area. And so more pillows entered the bed creating a Berlin wall of 3-4 pillows dividing the marital bed and involving a lot of huffing and puffing every time I wanted to shift position or, effort of all efforts, roll over onto my other hip.
I had one pillow for my bump, two between my legs and one to cuddle or wedge behind my bum. Moving became a logistical nightmare so I was very happy when I was offered the chance to review the Theraline Maternity Pillow.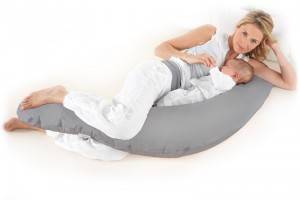 The Theraline pillow is body length and is angled in the middle into a shallow V or boomerang shape and is filled with tiny beads so it moulds softly to your body and keeps it's shape. The general idea is that depending on what your discomfort or physical need you can find a way to position the pillow round your body to create support where needed.
The length of the pillow is a real bonus, even very tall people will find this ample to support their entire leg length as well as bump, chest and arms. As I am quite short (5'4") I was able to also have my head on one end of the pillow and my foot supported at the other end. The beads in the pillow allowed me to comfortably create a dip to accommodate my bump and at the same time a firm section for my legs. Because it is so long you also have something to hug which helps to keep the chest open, a real relief to the upper chest muscles as they get contracted in pregnancy as the breasts gets heavier.
It does take a bit of trial and error to work out the best position to be comfortable in as aches and pains shift around but it is much easier with the Theraline pillow than with five normal pillows to work out the optimum sleeping position! The pillow comes with a basic illustrated sheet of suggested positions and I used this as a starting point but had a good play around with it the first few nights and found that I created one that wasn't on the sheet. Having just one pillow to deal with when I want to shift position is great. I have also used it as a supportive back rest and folded in half to create a raised bolster on the sofa to sit on and to rest my head and chest on when doing child's pose during the day to rest my lower back.
The pillow came in a floral yellow cover, which isn't to my my taste but it is a removable, washable cover which is a good thing considering the amount of sweating I do in pregnancy! You can also put the whole pillow into the washing machine which I can imagine would be useful if your waters broke on it! A definite pro point.
I tend to get quite hot when I am pregnant and one of my main criticisms with the pillow is that it seems to make me feel even hotter than usual and caused a lot of sweating, of course it is hard to know if this is just normal hormonal shifts or caused by the pillow material, or a bit of both. The length of the pillow, which can be its greatest asset, is also at times a bit irritating as I tend to get tangled up in it as I turn over and take it with me but all in all the Theraline pillow has been a definite asset to my maternity kit and I am looking forward to trying it out as a nursing pillow.
Read Sharmila's blog, Have Kids Still Tripping, or follow her on Twitter here.
We were provided with a Theraline Maternity Pillow for the purposes of this review, but you can buy one for around £45.