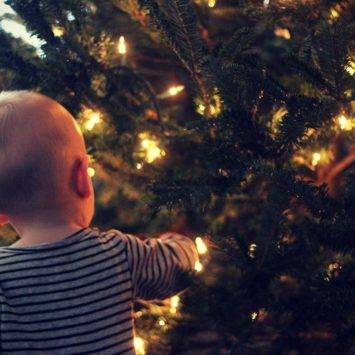 Are you celebrating your first Christmas as a parent? Here are the tell-tale signs that it's your baby's first Christmas...
Despite the fact you're sure your hormones have settled down, you have a barely contained sob in your chest for the whole Christmas season. Cheesy Christmas films, children singing, brass bands playing carols? More than enough to bring a tear to your eye.
And despite swearing before you had the baby that you would never ever dress them in a comedy costume, you seem to have a mini Santa outfit AND a Christmas pudding costume in your online shopping basket...and your hand is hovering over the 'checkout' button.
Whereas before you bought sequinned outfits for you in bulk, you start to panic that three festive babygros, two red dresses and a reindeer suit to wear on Christmas Day isn't nearly enough...for the baby.
And the only criteria for your outfit is 'Can I breastfeed in it?'
Even if you normally stay really clear of anything even slightly sentimental, this all goes out of the window the minute December arrives. A bauble you can have your child's face printed on? A Christmas dish with an imprint of their footprint? I'll take three!
Your Christmas tree is bare at the bottom, minutes after the just-crawling baby lurches towards all the lovely, shiny glass baubles.
You overdose on an unhealthy helping of Pinterest before realising that Christmas crafting with a tiny child is likely to be wonky and slightly chaotic. And you'll be finding glitter everywhere for weeks.
Children singing? *Sob*.
Make sure you read our posts on Christmas traditions and also how to celebrate Christmas when you're pregnant