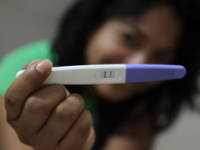 We welcome another new blogger this week, to TalkMum... a secret one...
It is a cruel irony, that despite the first 12 weeks of pregnancy being the hardest, it is usual to keep it secret. Hence, The Secret Pregnancy Diaries. I really want to write about it, but hardly anyone knows that I am pregnant - I don't even have a "baby on board" badge despite travelling on rush hour trains every day. I had to stop en route to work several times last week but I just know if I get a badge, I'll run into someone I vaguely know from work, and I just don't want to have the conversation until I (a) know everything is OK and (b) have all my ducks lined up work wise. It shouldn't affect things, of course, but I am all too aware of how the sub-conscious affects the conscious, even in the most well meaning of companies.
So, what can I reveal? This is my second pregnancy and it seems I have forgotten everything that I learnt the first time round. I feel that I have more to lose though, this time, and so the past 5 weeks have been tiring. Literally, as well. I've been in bed by 9pm most evenings, aside from the ones that I have to go to a work event and pretend I'm drinking. I'd forgotten how irritating it can be to be around, shall we say, less sober people. A combination of sore breasts, well aware of my bloated stomach and just liking some personal space means that I've been avoiding the drunken hug where possible.
Three things have surprised me so far this pregnancy: morning sickness, and how quickly it appeared; my lack of immune system meaning I've caught every bug going, and how quickly I've had to start wearing maternity trousers. In fact, I've had to stop wearing trousers at all to work at the moment, as maternity slacks will give the game away far quicker than I'd like. Meanwhile, by about week 5, my old jeans had ceased to fit, even with a hair band, and my goodness, the elasticated waist Topshop version feels *so* much comfier. By almost 9 weeks, I am definitely starting to show, even allowing for bloating. Thank goodness for my usual scarf wearing.
I first took the positive test at just under 4 weeks, then another (splashed out on a digital one) which pleasing confirmed a week later "3+" and then, after a worrying afternoon of spotting, ovary ache and after an ill timed Google search whilst sat on the loo at work, feeling sick and ill, convinced I had an eptopic pregnancy, an early scan, where we saw a reassuring heartbeat at around 6 weeks. That technically makes me due sometime mid-April but I still haven't had so much as a booking-in appointment yet (I'm sure I had my last one at 8ish weeks, rather than the 11 this time round) so really, it's just all muddling along, and trying to remember not to tell anyone the reason why I've suddenly gone off everything but grilled cheese and carbs at lunchtime, and why I've abandoned my take-away coffee habit. My bank-balance is thrilled mind you, so, that's something.
So, I'm going to keep a secret diary on TalkMum over the next few weeks. Any advice for me (aside from taking my Pregnacare vitamins?!) or, indeed, any questions?
Now read: How to keep an early pregnancy a secret and Charlotte's conception diary