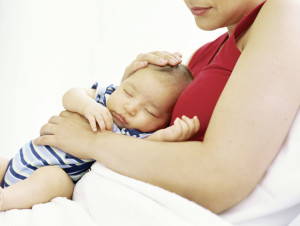 Despite receiving a lack of continuity with her antenatal care - a similar story to Marissa, Foz and myself - and seeing at least 12 different midwives once she gave birth, there was one who still really stands out to Chloe. Here's why:
So I'm not quite sure because of the drugs and my sleep deprived psychosis, but at a rough calculation I think that my son and I were under the care of 12 separate midwives during the first three weeks of his life. Twelve! It kind of seems like a lot and certainly wasn't the one-to-one Call The Midwife experience that TV would have you expect. I remember at least seven different midwives looking after us in hospital (we were in there for three days), and then there was the team of five community midwives who dropped in on us once we were home.
And what did I learn from this experience? Well, first off, I learned that midwives are inherently pretty darn brilliant. I mean, they have to be, don't they? They make sure our babies are delivered safely. They make sure that we're okay too. They deal in life – or death – every single day without making a fuss, and I for one am extremely grateful to live in a country where we can take this kind of care for granted.
But I also learned that midwives are all extremely different in their approach to their work, to their patients and to the advice that they give. I've never received so much conflicting advice about anything as I did about breastfeeding – something which was a real struggle for us from the get-go. I was desperate for help and desperate to be a good mum but, while each and every midwife tried to support me as much as possible, it felt like the person who took over on the next shift just told me to do something entirely different. It was confusing. I didn't half wish for some kind of continuity in my care, but given how overworked and overstretched midwives are these days, I totally get why it doesn't happen.
But, despite all of this, there was one midwife who really went the extra mile. She arrived on shift early in the morning after our second night in hospital. I was a total mess. I was in pain, I'd just had a blood transfusion, I felt vulnerable, I'd been awake all night trying – and failing – to feed my screaming child, and I was pretty convinced that I was never going to have the time to wash ever again. She introduced herself to me. She was really young, really friendly and really natural. She was one of those people that you feel like you've known forever. Maybe that was why I burst into tears when she asked me how I was.
'I don't have a clue what I'm doing!' I wept.
'Well,' she said, looking at me holding Samuel, 'You look like you know what you're doing to me. You're a natural.'
She smiled and gave me a hug, then she sat down with me for ages, helping me to express some colostrum. She gave me some top tips for dressing a tiny newborn and then she packed me off for a shower, telling me to take as long as I wanted and not to worry about a thing. I think that was all I needed, that little confidence boost and that massive kindness. I'll never forget her. She'll probably never forget Samuel either as he puked all over her while I was having a wash, but I guess that's all part of the job.
Was there one midwife who you'll always remember, or someone who went the extra mile? Leave a comment; we'd love to know.
Chloe is a copywriter who lives in South London with her toddler son Samuel, her husband, and their long-suffering cat. She blogs about life as a London mum and never having enough time to knit at Knittenden.