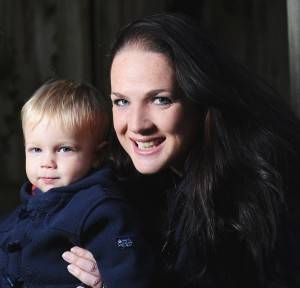 With the Duchess of Cambridge due to give birth in the next couple of weeks, she'll be in the final stages of what, for many people, can start to feel like the longest nine months of their life. Excited anticipation is also coupled with getting more uncomfortable by the day, the uncertainty of never quite knowing when you'll go into labour, and calls and texts from everyone asking 'Have you had that baby yet?' Here's TalkMum blogger Marissa on the agony and indignities of the final stages of pregnancy. Kate M, if you're reading, take note...
Having come out the other side now that Baby L is 11 weeks old, I feel slightly more able to laugh at this but if you'd have asked me just over 11 weeks ago, a laugh is the last thing you'd have got out of me! I should start this post by saying that I'm not one of those lucky ladies who blossom with pregnancy. In fact it was quite the opposite...I had terrible skin, massive weight gain, greasy hair, uncontrollable outbursts of rage mood swings and was generally exhausted. I view waiting for a baby in the same way I view waiting on the platform for a train in the UK; you know when it's scheduled to arrive but in reality it will just turn up whenever it feels like it with no explanation or apology for the delay.
I confess that I was slightly more amenable to this state of what I can best describe as 'grumpy flumpiness' during my first pregnancy but this second time around my bubble of fluffy newborn euphoria went the same way as my waters! I'm certain pretty much everyone was running in the opposite direction by the bitter end so as to avoid a torrent of whingeing and whining and I don't blame them.
Being frequently tested to my limits by an energetic toddler took its toll and left little time for reflection on what life might actually be like with two children (although this was probably a blessing!). The same questions did cross my mind; when is labour going to start, what will I be doing and is it worth hanging around the entrance to Morissons so that I can jump across the threshold when my waters break in order to receive a bundle of baby goodies (pretty sure this isn't true)?
The last few weeks of pregnancy certainly weren't the same as last time either. Whilst pregnant with R I indulged in lie- ins, daytime television, eating anything and everything I could find in the cupboard and generally being a bum with an excuse. If I fancied a break from all the relaxing, I'd take a leisurely stroll, perhaps stopping to browse in one of those luxury boutique shops where everything costs ten times as much as it should. You know the shops I'm talking about, the ones where a toddler get as warm a welcome as a burglar due to concern over them wrecking the joint. In a nutshell, there was no room this time to be blissfully ignorant about the baby-shaped bombshell about to drop.
This time I could be found joggling (a rare hybrid of jogging and waddling) through town after R bellowing something about traffic sense and trying to tempt him out of trouble with edible bribes, something I swore I'd never do but inevitably did. I was up early doors each morning with a demanding two year old trying to prepare Prince R his specific breakfast cereal, whilst turning on the radio, fetching fresh water in his favorite drinking vessel and locating the "spoon with the frog on" within 2 minutes of waking or there would be meltdown. The rest of the day would continue in a similar fashion.
Instead of basking in the glory my pregnancy was attracting, even among complete strangers, each day I vowed I would punch the next person who asked when I was due as it only served to remind me that it wasn't right that moment. Don't even get me started on the game of Touch the Bump...
So if you're pregnant and you're feeling far from rosy, please find some comfort in the fact that you're not alone in wishing it all over as quickly as possible. My advice to you is to spend some time perfecting your "touch me & I'll break your arm" glare and remember that in a few months/weeks/days this will all be over & next time (if there is one) you wont even remember you felt like this and you'll be telling everyone how much you loved being pregnant.
Did you love the final stages of pregnancy, or did you just want the baby to born as soon as possible? Leave a comment, let us know!
Having quit the City to spend days knee-deep in nappies & Weetabix, Marissa is mum to R (now 2) & baby No 2 in who arrived in April 2013.
Living in Surrey, she blogs at Little Rascal Reviews on products, life & toddlers!