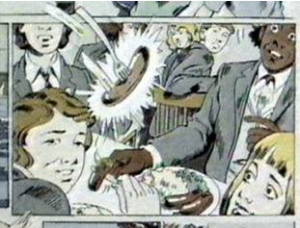 Matching ties, regulation-length skirts, netball in the rain, singing in communal assemblies and stodgy dinners. We're talking about school, of course; is it really the best years of your life?
This month we're celebrating early years education, with posts on everything from playgroup, through to childcare and starting school.
But first, we wanted to hear about our bloggers' own memories of the playground and beyond.
So here's everyone's favourite - and least favourite - things about their own school years (what were yours?):
My favourite thing about school was getting to buy a new pencil case every September because I was an insufferable swot. I also loved eating butterscotch tart on Friday lunchtimes and making a racket in recorder concerts. I don't think my parents loved the said concerts as much as I did, though. Chloe, Knittenden
I actually loved going to school and learning and looked forward to it. So it is difficult to pinpoint one thing that I loved about it. I guess I could be classed as the 'teachers pet' as I was pretty much top of my class throughout my school years. I loved taking part in activities; we did a lot of charity events in secondary school which was so much fun, including soaking our teachers and making them walk through bowls of beans! Most of the kids knew who I was along with my friends as we were often raising money. Foz, Muslim Mummy
Laughing. Endless giggling. About 'in' jokes, teachers, rude words, boys, girls, outfits, anything. Make me laugh and you've got me for life, as, much to their chagrin, several of my school friends have found. Eleanor, The Bristol Parent
OK, I admit it, I LOVED school, even the times tables and spelling tests (think of a young Monica Gellar from Friends). I had a pretty vivid imagination, so my absolute favourite thing was writing stories. Fran, The Parent Social
Looking back, what really stands out is the social side of school - hanging out with my friends, reading magazines and gossiping in the playground. I loved talking so much that my parents were called in front of the Head of Year who complained that me and my best friend were disrupting the whole class with our constant chatter. I don't think even that shut us up. Gill, A Baby on Board
And what were some of the worst things about school?
My least favourite thing about school was cross country running. 'Nuff said. Chloe, Knittenden
As the most fussy eater ever, my least favourite thing was school dinners. I didn't even contemplate having them. I was so fussy in fact, I didn't even want a packed lunch for the first three years of school. My other least favourite thing was the school toilets: cold, draughty and smelly with horrible tracing paper-style loo roll with GLC (Greater London Council) stamped on it. The combination of food and toilet fear saw me going home for lunch EVERY day. Thankfully school and home were in the same street. Fran, The Parent Social
My least favourite bit of school was in secondary school. I saw more bullying happen, even towards the more vulnerable teachers. Foz, Muslim Mummy
As well as a strong dislike for outdoor games - anything that involved getting my hair wet or being cold - I also really, really disliked maths. I was much more of a wordy and creative child, and numbers made no sense to me at all. I lived in fear of failing my maths GCSE and having to re-sit, which thankfully didn't happen. Seriously though, when in your adult life have you ever needed to do a quadratic equation? Gill, A Baby on Board
What were your favourite - and least favourite - things about school? Leave a comment and let us know.
Image via Anorak.co.uk