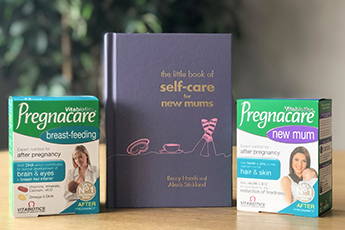 We're back with the latest instalment in our TalkMum Book Club, featuring The Little Book of Self-Care for New Mums
Welcome to the latest issue of our TalkMum Book Club, where we review the newest releases and best books and podcasts relating to fertility, pregnancy and parenting.
So far, we've looked at Giovanna Fletcher's book and podcast, Happy Mum, Happy Baby and Dare to Dream by Izzy Judd, along with her podcast, Let's Talk Fertility.
Next up, we're thrilled to feature The Little Book of Self-Care for New Mums.
What's The Book About?
The Little Book of Self-Care for New Mums is a pocket-sized guide to managing the physical and emotional demands of becoming a new mum. It's an illustrated book that contains tips and hints designed to help frazzled parents, with everything from simple stretching exercises through to recipes for making camomile tea breast pads.
Pushed for time? There are also lists of 'five minutes fixes' you can dip in and out of, which are super-quick tips for making yourself feel better when the overwhelm sets in. It's also friendly and sympathetic – a judgement-free zone.
Who Are The Authors?
The book is written by Beccy Hands, a doula, and Alexis Stickland, a midwife, both whom have many years of taking care of new mums and realise the importance of focusing some of the attention back on yourself at a time when it's all about the baby.
Why Should I Read The Little Book Of Self-Care For Mums?
Being a new mum is enormously rewarding, but can be hard, especially as you're dealing with the responsibility of looking after your newborn on a few hours of broken sleep. While 'self-care' might sound like the current trendy buzz word, it's important to take little steps to refresh and nourish yourself, so you can take care of your baby, and this book will help you do that. It's also a great one to buy for your new mum friends, too.