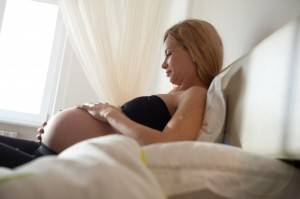 This week, we're talking about how pregnancy can affect your hair and skin. Mother of two, Cath gives us the low-down on her experience of stretch marks during pregnancy.
Stretch marks are thin reddish lines that usually appear on the abdomen as your bump increases in size. Affecting between 75 and 90 per cent of pregnant women they are a common pregnancy complaint and whilst they can fade over time they never quite disappear.
I have been very lucky and don't have a single stretch mark. I think this is purely down to luck as I did absolutely nothing to prevent them!
Stretch marks were a common topic of conversation when I was pregnant and everyone had a different idea about how best to avoid them. Some friends spent a fortune on a variety of lotions and potions, designed to prevent stretch marks. Others just used a normal moisturiser and rubbed it into their stomach twice a day. Other theories included drinking plenty of water to keep your skin hydrated and of course a healthy diet is very important too.
After reading up on stretch marks I have also discovered that exercise can help as working out keeps your muscles firm, and consequently your skin remains firm as well. Obviously, care needs to be taken when exercising when pregnant and your midwife should be able to give advice about safe pregnancy exercises.
Whilst I was in hospital recovering from childbirth after having my first son, there was a woman in the next bed whose stomach was completely covered in stretch marks. I was quite shocked when I saw how bad it was. She said whilst her stomach didn't look nice, as long as her baby was fit and healthy that was all that mattered.
Interestingly, I think whether you get stretch marks or not has a lot to do with genetics. My mum doesn't have any stretch marks and neither does my sister. After talking with friends it does seem to be the case as the majority have a similar experience with stretch marks during pregnancy as their mum and sisters do.