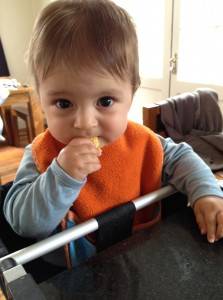 This month on TalkMum we're focusing on baby weaning and feeding. We've looked at the different weaning methods, and the best products you can buy. But what do you do when your baby just won't eat? Here's Kiran on her weaning journey so far:
Before I mashed up my baby's first avocado, or made up his first bowl of porridge, I was so excited about starting him on solids. I'd read articles on how to start, I'd discussed it for hours with friends, I had library books full of advice and recipes lining my shelves, and I'd bookmarked web pages with even more handy hints.
We bought a high chair and I made sure we had plenty of bibs, weaning spoons, and tiny plastic pots for freezing leftovers in. My mum even sent me a fancy contraption so I could steam and puree all my child's food in one little baby-sized food processor. My freezer was full of cinnamon-infused pear, apricot chicken, fish pie and lentil bake before I had even started.
So when my little boy refused to eat, I was stumped.
I made sure we were both relaxed. I made sure I didn't put pressure on him. I tried as hard as I could to make the time we spent at mealtimes fun. He still refused.
I put him in his high chair so he could watch me eat. I offered him pureed fruit, baby rice, whole chunks of stir-fried vegetables. It didn't matter though whether it was on a spoon or whether he could hold it. My son was not interested in food. If I gave him something to hold, he'd not put it anywhere near his mouth. If I gave him something on a spoon, he would turn his head away.
For months, I re-read the books. I went to the doctor. I considered seeing a specialist. I beat myself up about what I saw was my complete failure as a mother. I watched other mums in envy as they fed their children balanced meals which were eagerly gobbled up.
Sometimes, I'd manage to spoon feed my little boy a little pureed fruit, and occasionally, he'd suck on a corn cracker until it dissolved in his mouth. What I soon realised though, was that if he tried anything lumpy or solid, he would gag and bring it all back up.
This gag reflex is completely natural in babies and protects them from choking. My little boy, however, lost his very late at eleven months. It was only after that age that he could try truly solid food. Since then, our journey with food has continued slowly. We are making progress, but we also have days on end when it seems he will eat nothing.
It's a journey that has taught me to listen to my child. At first, he wouldn't eat because he couldn't. Now that he can eat, I'm trying to follow his pace and trust his instincts. I find it immeasurably difficult not to get upset at mealtimes. I find it impossible not to feel defeated after every attempt at breakfast, lunch, and dinner. I find I still get jealous of friends whose children seem to eat everything. But I'm also trying to remember that each child does things at their own pace - and my little boy will get there in the end. All I can do is keep offering and keep trying. That has become my way of introducing food. For other parents though, a firmer approach might be what they believe to be best - and I think whatever feels right for you and your baby, is what you need to try.
For months, I was bombarded with conflicting advice about the best way to get my child to eat. Not everyone could have been right, because some of their views were so opposed. I'd let judgements get to me. I'd let other people's values or way of doing things seem better than my own - despite no-one knowing my child better than me.
Sometimes it still hurts to hear a comment which implies that I simply don't know how to feed my child, or that I'm not doing a good job because I'm giving in to my one-year-old. But most of the time, I let these comments go over my head. I ask for help from those that I trust, whose ideas I respect, and from people who know me and my child. This is, I've found, the way that works for us. It's a journey we are still working our way along - but it's one we're going to do in our own time and our own way. I'm going to keep trusting my instincts, and listening to my baby. I wish you all luck with starting solids, and I hope you all manage to do things your way.
Did you encounter any problems with weaning? If so, what worked for you?
Kiran is a freelance writer, journalist and blogger who recently returned to her hometown of London after nearly a decade of living overseas. She is mum to a toddler, and currently expecting her second child.
Kiran blogs about all things mumsy over at hellolittlemister.wordpress.com
Don't forget to read about Kiran's pregnancy journey so far, in her 25 weeks pregnant update.