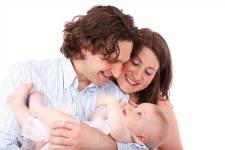 We look at the new Shared Parental Leave legislation and what it means for parents...
This week, Shared Parental Leave has become available to British parents for the first time ever. So, unlike before when a baby's mum would be able to take up to 52 weeks of maternity leave, and her partner could take up to 26 weeks of paternity leave, the couple can share up to 50 weeks of leave. This new legislation gives parents more control and flexibility when deciding who should care for their baby, and who should return to work, and for how long.
Who can apply for Shared Parental Leave?
Any parents in work, including those who are adopting, same-sex couples, co-habiting couples, and couples bringing up a child together even if the baby is from a previous relationship. This applies to all parents of babies born or adopted on or after 5 April 2015.
Who is eligible to take Shared Parental Leave?
You must:
have been employed continuously by the same employer for at least 26 weeks by the end of the 15th week before the due date (or by the date you're matched with your adopted child)
stay with the same employer while you take SPL
During the 66 weeks before the week the baby's due (or the week you're matched with your adopted child) your partner must:
have been working for at least 26 weeks (they don't need to be in a row)
have earned at least £390 in total in 13 of the 66 weeks (add up the highest paying weeks, they don't need to be in a row)
This can be as an employee, worker or self-employed person. Your partner doesn't have to be working at the date of birth or when you start SPL or ShPP.
How does it work?
If you're eligible, you can share the 50 weeks as you choose (although the mum must take the first two weeks after birth off work, by law). Unlike maternity leave, which must be taken in one solid block, a parent can book up to three blocks of parental leave in the course of the child's first year. They must give their employer at least eight weeks notice before taking leave. An employer may agree to shorter blocks of leave, of just a week or more, but that's up to them.
Can we claim Shared Parental Leave Pay?
Yes! You can claim Shared parental leave pay for 37 weeks of the 50. is £139.58 a week or 90% of your average weekly earnings, whichever is lower. There is a possibility that your employer may offer more. The final 13 weeks must be taken unpaid. This is the same as statutory maternity pay, except that during the first six weeks statutory maternity pay amounts to 90% of whatever the employee earns, with no maximum.
Find out more about Shared Parental Leave on the Gov.uk website. Would you consider taking it or would you be happy to stick with taking maternity leave and paternity leave?