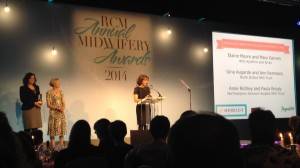 This week we attended the 2014 Royal College of Midwives Annual Midwifery Award ceremony, held at The Brewery in London, and hosted by journalist, broadcaster and mum of two Natasha Kaplinsky.
The awards celebrate, share and reward outstanding achievement in midwifery across the UK. Vitabiotics Pregnacare sponsored the award for Excellence in Maternity Care, which was awarded to a team of midwives from Ayreshire and Arran by brand manager Susanne Bisinotto.
The winners, Elaine Moore and Mary Garven, introduced a 'Vulnerable Families Midwives' (VFM) programme in their area. The service has improved the experience vulnerable women receive by providing them with a designated midwife, who acts as an advocate to support them both during and after pregnancy, helping with lifestyle and health changes along with parenting plans. The designated midwife also works specifically with families experiencing difficulties or crises and works more effectively to improve the involvement of fathers.
The judges described the project as 'totally inspiring, innovative and passionate. (It) identified a particular problem in their area and did something about it without extra funds. It was a well-grounded in the policy agenda. It was a privilege to listen to them.'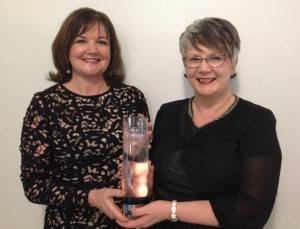 The winners were praised by Cathy Warwick, Chief Executive of the Royal College of Midwives, who said: 'To win an award is a real achievement.
'Without midwives, their teams and colleagues from other health professions pushing at the boundaries of practice we would not see the care they are able to give to women, babies and their families improve and move forward. This is innovation in action which will help maternity services everywhere to deliver safer, better and continually improving care.
'I congratulate Elaine and Mary on this achievement and thank them and their colleagues for their dedication, skill and commitment to vulnerable mothers, babies and their families.'
We were lucky to be sat with the Excellence in Maternity Care award nominees throughout the event, and it was amazing to hear more about everything they all do, how passionate they were providing the best possible care, and the warmth and humour with which they all go about their work.
The event was inspiring and very emotional. Since having my daughter I'm in awe of midwives, and the fantastic work they do at the start of new lives, and the huge difference they make at a crucial turning point for all parents.
Huge congratulations to Elaine and Mary from everyone at TalkMum, Pregnancare and Vitabiotics; and congratulations to all the award winners and nominees – and, of course, midwives up and down the country for the amazing job that they all do.
Gillian blogs over at A Baby on Board about London life as a new mum, covering everything from baby clothes to breastfeeding. She lives with her two year old daughter Eliza and husband Alex in south London.