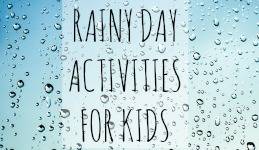 What do you do when it's tipping it down outside? Read on...
This month on TalkMum is all about activities and things you can do with babies and kids. We've asked our TalkMum bloggers to reveal their top tips for entertaining little ones when the heavens have opened and going to the park just is not an option (well, unless you get wrapped up in waterproofs and wellies...)
"We don't have a particular favourite rainy day activity but we do love to do some simple crafts that the little one can also join in with, for example colouring and drawing. Also baking is a good activity to do on a rainy day. And nothing beats some popcorn, snuggling up and watching a film." - Fozia from Muslim Mummy.
"We love building an indoor den is our favourite rainy day activity. It's the easiest thing ever to drape a big tablecloth or bed sheet over a table and chairs and it's something that children don't grow out of very quickly. Somehow their usual toys take on a whole new lease of life in the den, tea parties are extra special and actually eating lunch or dinner in there is amazing!" - Fran from The Parent Social.
"One word: FROZEN :-)" - Gill from A Baby On Board.
"We've recently got quite into card games - usually Snap or Happy Families. And it involves a lot of trying to make sure the four-year-old doesn't cheat and also letting her win a little bit too!" - Alison from Not Another Mummy Blog.
"My favourite activity is going round to a friend's house, or having friends round to mine. Just that extra injection of new people/new places seems to pep everyone up. That being said, I am looking forward to my daughter getting a bit older so we can build dens and start watching the odd classic child's film together on the telly." - Eleanor from The Bristol Parent.
"Favourite rainy day activity here is baking then settling down to watch a film..usually Frozen with the results of the baking!" - Becky from Munchies and Munchkins.
What are your favourite rainy day activities?