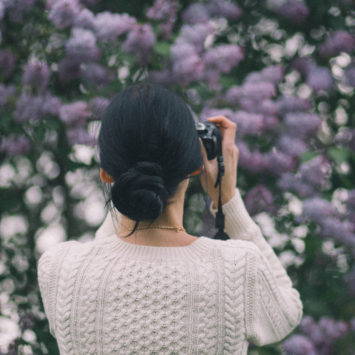 Looking for new parent vloggers to watch in 2018? Here's a round-up of our favourites
While sharing family life online is not new, there's now an emerging generation of mums and dads documenting the ups and downs of parenting and family life, on video.
Our favourite parent vloggers cover everything from weekly pregnancy updates to family life and style, never being afraid to tackle important issues or reveal the truth about motherhood and family life. All in a warm and inclusive style we'd look for in our friends.
Here are our favourite parent vloggers we're looking forward to watching in 2018:
Charlotte Taylor:  One of our all-time favourite vloggers, Charlotte vlogs on her channel about pregnancy, parenting and family life in a friendly and relatable way. Make sure you also catch-up with the videos she made for TalkMum, including her TTC journey and the differences between boy/girl pregnancies.
This Mama Life: As well as gorgeous lifestyle, fashion and parenting content, Sarah's not afraid to tackle issues on her YouTube channel - dealing with mental health, being a working mum and also life in a military family. We love her pregnancy reaction video, which has racked up over half a million views.
Amy Maxine: Amy's videos cover her life as a new mum to her son, as well as a strong focus on being a vegan and living a natural lifestyle. She features upbeat tips on everything from natural skincare to wellness and positivity.
Meet the Wildes: Follow the story of Amber, Kirstie, their two sets of young twins under the age of four and their dog Josephine, from their house in south London. Their YouTube channel Meet The Wildes covers everything from twin parenting, children's fashion and topics including what NOT to say to same-sex parents.
Molly Forbes: As well as style and home updates, Molly vlogs about the honest side of parenting and life as a mum to two young children, uncut, over on her channel. Christmas may be over but we'll always have a soft spot for her video about choosing her Christmas tree, showing how the Instagram-reality of the job never quite goes to plan (something we're sure many people will recognise!).
Brummy Mummy of Two: Emma's love of watching YouTube lead to her setting up her own channel. Her brilliantly honest style meant she very quickly became incredibly successful with nearly five million views to date and over 27,000 subscribers. We love her award-winning ode to Kate Middleton.
Chloe Bridge: Chloe covers family life as a mum to three boys, detailing everything from fashion and interiors to baby-led weaning, which she covered in one of her most popular videos. Her beautiful videos reflect her talent as a photographer; she's definitely one to watch in 2018.
Who are your favourite parent vloggers? Leave a comment and let us know! Make sure you also enter our new competition with Sumer Infant and read about mama mantras for 2018