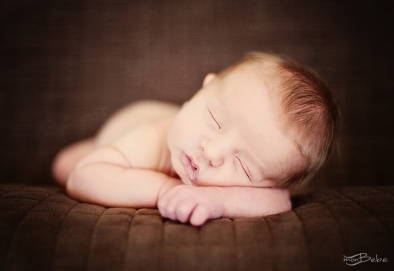 The first few weeks with a newborn are so precious and fleeting - before you know it, you'll have a toddler running round the house, pulling books off the shelf. So what's a perfect way to capture these moments? TalkMum blogger Marissa, who recently gave birth to Baby L, arranged a newborn photoshoot. Warning: don't read this post if you're even remotely broody...
I was delighted to be contacted by Chantal from Chantal Storrs-Barbor Photography regarding a Newborn Photoshoot. I am utterly devoid of photographic talent and am slightly afraid of technology, I think I'm winning if I manage to upload digital photos to my laptop! As such, I suspected Baby L would suffer the same fate as his elder brother and in the future he'd have to contend with viewing baby pictures where I've managed to chop the top of his head off or the whole thing's out of focus. Therefore I was thrilled to discover that someone else wanted to take responsibility for turning my new little creation into a piece of art!
I didn't really know what to expect but we chatted about what was involved and if there was anything specific I was looking for, how long it would take, etc. The shoot took place at my house but a lot of photographers (Chantal included) have specialised studios you can use instead if you don't fancy tidying up or feel you don't have the space at home.
We used our playroom for the shoot as it's one of the sunniest rooms in the house. What I didn't realise is that there's a very narrow timeframe for newborn photoshoots which is about a week, between days 7-14 of baby's life. This is to ensure they're really sleepy still and easy to pop into position. They're usually photographed as nature intended with the addition of a few props (favourite toy/hat/blanket/etc.).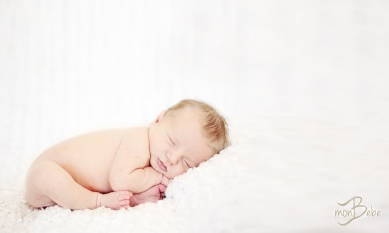 The whole thing lasted about an hour and fortunately was a very relaxed affair. Chantal also remained unfazed when Baby L chose to wee on one of her lovely blue blankets (apparently this happens a lot!). I know from experience that when you have a baby, especially for the first time, that you have plenty of things to be occupying yourself with but I'd encourage parents to consider a shoot before the birth. Obviously you don't always know exactly when the birth is going to happen so you wont be able to schedule a date but you can at least choose your photographer and discuss requirements so that when your new arrival finally makes an appearance (and you're occupied with other things), it's simply a matter of agreeing a time with your photographer.
I'm so pleased we took time out to arrange this as we wont ever be able to go back and have this time again. I'm a little sad we didn't do the same for my first son but I don't think we were prepared first time around for the whirlwind about to hit us!
If you happen to live in Surrey and are interested in a Newborn or Pregnancy Photoshoot you can visit Chantal Storrs-Barbor Photography here. You can also see more photos from the shoot here.
Did you have a photoshoot for your newborn? If not, how else did you capture their first few weeks?
Having quit the City to spend days knee-deep in nappies & Weetabix, Marissa is mum to R (now 2) & Baby L, born April 2013.
Living in Surrey, she blogs at Little Rascal Reviews on products, life & toddlers!