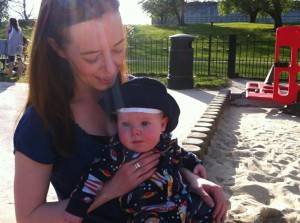 Today on TalkMum, we're excited to welcome new blogger Chloe, a copywriter who lives in South London with her six-month-old son Samuel, her husband, and their long-suffering cat. She blogs about life as a London mum and never having enough time to knit at knittenden.blogspot.com and you can find her on Twitter as @cheekylilo1. Reaching the six month mark is a significant milestone, and here Chloe looks back at the first months of motherhood:
Glancing at the calendar, I realised that this week marks a couple of milestones for us.
Not only has Samuel reached six months, but it's also exactly a year since I announced my pregnancy. I remember the shrieks from my family, the hugs from my friends and the excitable chats in the office kitchen with my colleagues. But most of all, I remember the deluded rubbish I spouted when I was chatting to people about how I would be spending "the time" I'd have on maternity leave.
I didn't realise that there wouldn't actually be any time. None at all. Perhaps that's why I found myself telling my boss that I planned to learn how to make my own pasta, and catch up on my knitting projects while the baby snoozed. And when a friend asked if I'd be available to help her out with some proofreading, I remember uttering the immortal words, "Sure thing. After all, I'll only be looking after the baby. Apart from that, I'll be free".
Talk about naive. I didn't realise how all-encompassing looking after a baby is. I just assumed that babies were born with the innate ability to nap for hours in a cot, and leave you with the time to pursue your dreams of becoming a domestic goddess. I didn't yet know that the only time he'd sleep at all would be when he was in my arms. Or that when he wasn't sleeping in my arms, he was feeding or crying in them. Constantly feeding or crying.
Bone-crunchingly tired and largely unwashed, I barely left the sofa for months. I joked that maternity leave was less like being on holiday and more like being on remand. When I found a minute to cut my toenails one day, it felt like decadent me-time.
But here we are now, Samuel six months' older, me six months' wiser. A routine of sorts has emerged and I don't live on the sofa any more, but time is still at a premium. I haven't managed to do any of the things I'd expected to do, but I have done heaps of things that I hadn't. I've made a fantastic bunch of local friends through my antenatal classes. I've learned to create freestyle raps to the tunes on the Jumperoo. I've committed all the words of Aliens Love Underpants to memory.
And I've discovered that there is absolutely no better way of spending your time than making a baby giggle. The pasta maker and the knitting needles can wait.
How did you feel when your baby reached six months, and how did motherhood match up to your expectations?