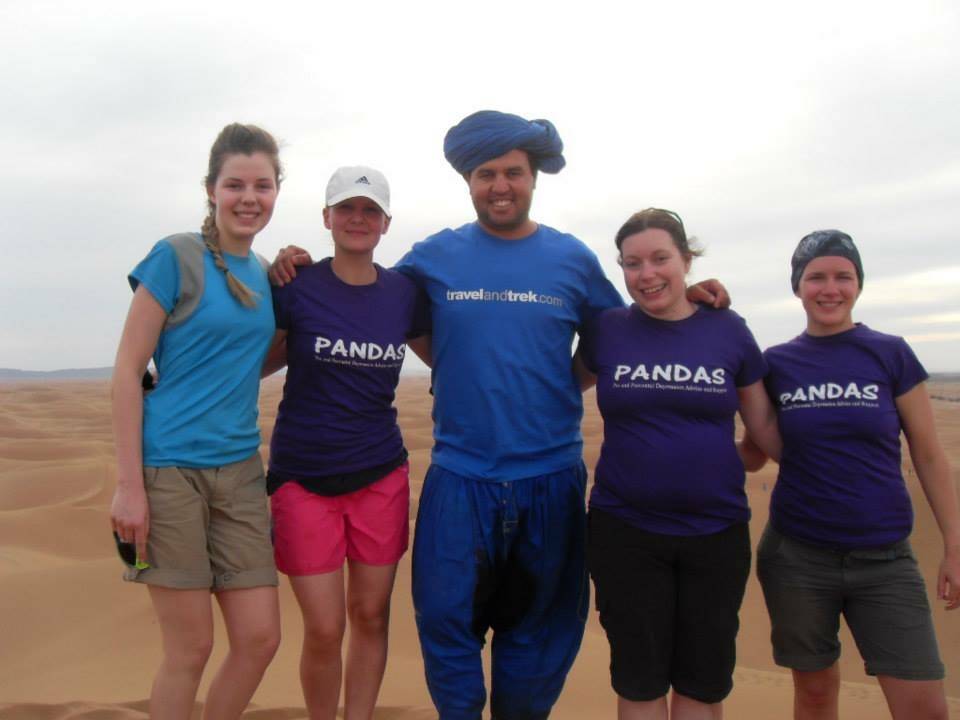 We talk to Kat Jones from PANDAS Foundation, who is trekking across the Sahara to raise awareness of PND and preinatal mental health issues
In a new feature on TalkMum, we're going to be speaking to parents across the country who are doing inspiring, amazing and everyday things - to find out more about them and what drives them.
Our first parent is Kat Jones, 35 year old mother of four and volunteer for PANDAS - the charity supporting sufferers of perinatal mental health illnesses and their families.
This week, Kat and a team of PANDAS volunteers are trekking 100km of the Sahara Desert to raise both sponsorship for PANDAS and awareness of perinatal mental health issues at the same time. The team will trek for 100km through the Sahara Desert where the are no roads, people or even sounds.
We spoke to Kat (pictured above on the far right, and below with PANDAS founder Rachael) about what led her to volunteering with PANDAS: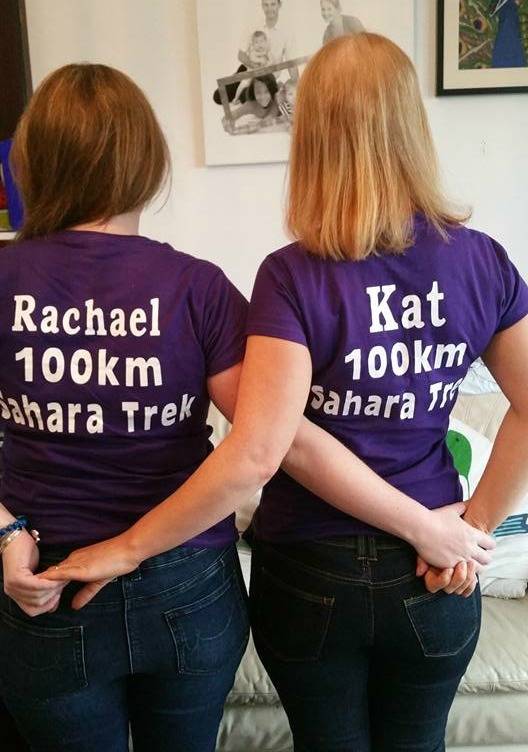 'I walked to the park today with my 17 month old son holding my hand. The feeling of love ran through me, followed closely with a deep regret that it took me so long to appreciate these small yet special moments. I became a mother 15 years ago and can honestly say that these moments of pure joy have been few and far between. I almost hope my children never read this, the feeling of guilt and concern they may think I love them less because of what I have been through runs deep.
When I first found out I was pregnant all those years ago, I was given so much advice and of course the normal warnings, including the usual regarding lack of sleep, never drinking a hot cup of tea again, and how my life would change dramatically. Nobody told me quite how much it would be changed if I developed something called post natal depression. In fact, nobody told me about PND at all.
When I found myself crying over everything, not wanting to get out of bed, resenting my child and just feeling like I was constantly battling through my days, I just assumed this was motherhood. That this was the dramatic change I had been warned about. I felt that voicing my feelings of worthlessness, self hate and helplessness would put me in the category of a bad mother so I remained silent. And battled on. Looking back now, I'm not surprised by how my relationships with those I loved have been changed by or lost entirely to the darkness and fog of depression. I was also a single mother, that comes with its own stereotype and stigma, and did nothing to assist the way I was feeling.
As time went on, and my daughter reached school age I started to feel more like 'me' again, though I held on to the regret and guilt that I hadn't been the mother I had wanted to be. I vowed to do something amazing to build a future for her and I, and I signed up to do a law degree. I met my now husband the same year.
A few years later I graduated university with a first class honours degree, got married, began my career as a lecturer - and have had more children and several miscarriages during that time and the years following. With each pregnancy and birth, I lost a little bit more of me again and sank deeper into depression. I became an expert at hiding it. It wasn't until I fell pregnant with my last child that I couldn't hide it anymore - I developed antenatal depression and what has since been diagnosed as pseudo psychosis and post natal depression.
Cue searching for help, for support, for love, for a magic answer. The GP gave me anti depressants and I mistakenly assumed my health visitor would be notified and I would be referred to a psychiatric team. These assumptions were wrong and I was left very alone, confused and frightened. When I could take no more, when the delusions took me to arranging baptisms and the paranoia separated me from friends and family, I made a desperate plea to Google and found PANDAS. Speaking with other women made me realise I was not alone. I learnt self care and slowly and surely I started to seek more professional help, safe in the knowledge my children wouldn't be taken from me. I began to love myself and shine again.
Having resigned from job in a moment of despair months before whilst suffering a crisis of confidence, I realised I had time to spend helping other women and I set up a support group affiliated with PANDAS. It was the making and finding of me and I feel humbled and privileged to be helping others through the similar or the journey I went through. I have since began volunteering with PANDAS to offer support in the online community. I am determined that no woman or family need go through this alone so I also campaign to raise awareness. In need of a target I have also signed up to trek the Sahara in March for PANDAS and am proud to be part of a team who have collectively raised nearly £10000 for this amazing charity who saved my life.
I still have bad days, but thanks to PANDAS I am looking forward to the future, and many more walks to the park and other adventures with all my children."
Have you been affected by any of the issues Kat talks about? Read more about why we need to talk about post-natal mental health, and posts by Rachel from PANDAS about why sleep depirvation is tough and mood-boosting family fun