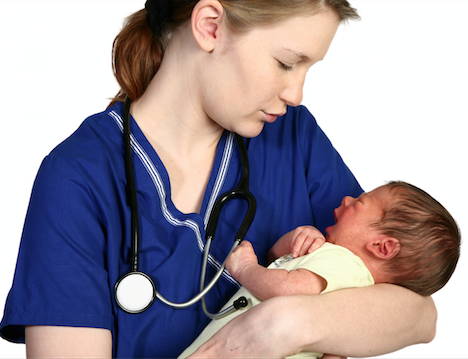 Today is International Day of the Midwife, where we celebrate the work of midwives across the world
Did you know that the word midwife dates back as far as 1300 and means 'with women'? 5th May is the International Day of the Midwife, where people around the world talk about the essential services midwives provide and raise awareness to try and ensure every woman and every newborn has timely access to the best possible care before, during and after pregnancy and child birth.
Midwives have an essential role to play for parents at a turning point in their lives, and most mothers will remember a midwife who made a positive difference at what's such a crucial point.
When I was pregnant with my first daughter, I was looked after by a team of community midwives who I saw regularly for antenatal care and appointments, in the run-up to the birth, while I was in hospital and then for a few weeks afterwards. While all the care I received was fantastic, it was the help they gave us when we were having breastfeeding issues that was completely invaluable. We had a lot of problems to start with and the midwives came to see us every day, gave us an emergency pager number for any issues and sat and talked with us for as long as we needed.
With my second daughter, I still remember the midwife at one of my appointments who gave me strong words of encouragement when I was having a few pre-birth wobbles. I left with positivity that carried me right through to the delivery. And then, of course, I remember the midwife who delivered my second daughter who was kind, funny and encouraging at the right moments.
To mark International Midwife Day, we've rounded up all our TalkMum posts about midwives and the amazing work they do:
What do you remember most about the midwives who delivered your baby? If you're pregnant then make sure you read our advice on what to pack in your hospital bag and tips about getting prepared for labour.