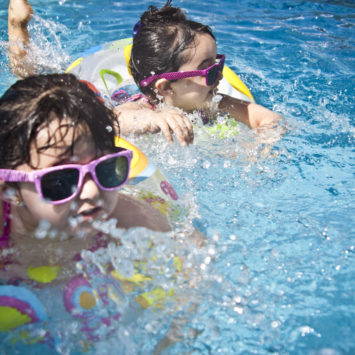 Is your home water safe? Follow our tips to make sure you keep your children secure in the water this spring and summer
With warmer spring weather on the way, most parents and children's thought turn to the simple water tricks that keep everyone cool when the sun comes out. Getting the paddling pool out and filling up the water tray are seasonal rites of passage.
But is your home water safe? Parents are being urged to follow simple tips for their house and garden this year, thanks to The Royal Life Saving Society UK (RLSS UK). One person dies every 20 hours in the UK and drowning is the third highest cause of accidental death of children in the UK. Thousands more suffer injury, some life-changing, through near-drowning experiences.
And it's not just the summer activities that pose a risk - there is a with a real threat of drowning happening in the home throughout the year from simple everyday activities such as taking a bath.
As Di Steer, RLSS UK Chief Executive, said: 'Even one child drowning at home is too many. These are preventable deaths and we need to keep shouting about the importance of home water safety.'
'Drowning can happen very quickly and in less than 2cm of water, so filled bath tubs, swimming pools, hot tubs and even buckets of water and sinks can be dangerous. There is a real risk of drowning in the home and garden.'
Make sure you follow advice from RLSS UK with these simple tips to make your house and garden water safe:
Empty paddling pools and buckets as soon as they have been used. Always turn paddling pools upside down once empty (and it goes without saying that you should always supervise when children use them)
Securely cover all water storage tanks and drains
Always pull out the plug of the sink or bath
Never leave children unattended at bath time. Empty the bath as soon as possible after use
Always put the bath plug up high and out of reach
Always keep the bathroom door shut
Always use self-closing gates, fences and locks to prevent children from gaining access to pools of water
If you're taking part in our campaign, let us know on Twitter @RLSSUK #SpringClean and help us spread awareness to save lives.
Make sure you are water safe in the home! And read our tips on staying cool with a summer pregnancy and picnic ideas for toddlers