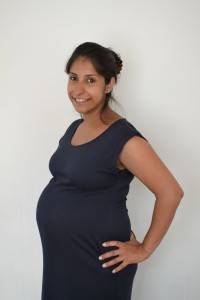 Our resident pregnancy blogger Kiran is now 38 weeks, and full term. Her due date is tantalisingly close; so are there any signals that labour is imminent?
I keep looking for signs - was that a contraction or just more Braxton Hicks? I've got backache - does it feel like last time I was in labour? I can't help myself. I don't want to go into labour early, but I'm just incredibly excited about meeting my baby.
I'm now 38 weeks and my baby girl is considered full term. My first child arrived when I was 38 weeks, and signalled that he was on his way with a dramatic breaking of my waters - luckily I was in the shower!
That time I was taken completely by surprise, this time I think I'll be better at reading the signs. Having said that, I don't feel like this little girl is anywhere near ready to come out. She has dropped a little lower in my tummy, but other than that, I just don't feel like she's on her way yet.
We've reached the point in our house where we can talk about little else though. My husband and I can't contain our excitement really, and all we are thinking about is meeting our daughter. We can't wait to see her, to hold her, and to get to know her. We're also talking about her lots to our son, who is 18 months old. We don't think he understands much of what is about to happen, but we're trying to prepare him as much as possible.
I'm feeling really calm and ready to meet my little girl, but I'm also looking forward to not being pregnant anymore. I feel bad complaining about the lovely summer we are having, but the heatwave is making it even harder to sleep at night. I'm incredibly tired at the moment and think the heat combined with the lack of sleep is all playing its part. I'm spending most of my days sitting either in the shade or in my son's paddling pool trying to cool down!
And overall, I'm really doing very little. I'm trying to get in as much rest as possible in the lead up to my baby's birth, because I remember well the sleep deprivation from last time. The entire family is pitching in with help, and my little boy is enjoying all the extra playtime he is getting with everyone else instead of just mummy.
This pregnancy has differed greatly from my first, and now that I'm near the end it's also been a time to look back. In my first I developed preeclampsia at 36 weeks so the final couple of weeks were mainly spent in and out of hospital and were a rather a frightening time. This time, I've fortunately shown no signs of the illness, and I feel I've really been able to enjoy the excitement of this stretch a bit more.
My husband and I have also spent a lot of time thinking back to those first few days with our first baby. We've remembered how quickly it all goes, how wonderful it all was, and how magical it felt to become parents. We've also talked a lot about how very lucky we feel to be having another baby. They really are a gift, and we're currently feeling very spoilt!
Are you approaching your due date? If so, how are you feeling?
Read Kiran's posts at 25 weeks pregnant, 28 weeks pregnant, 32 weeks pregnant and 36 weeks pregnant, as well as her recent Q&A.
Kiran is a freelance writer, journalist and blogger who recently returned to her hometown of London after nearly a decade of living overseas. She is mum to a toddler, and currently expecting her second child.
Kiran blogs about all things mumsy over at Mummy Says.