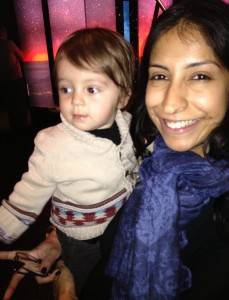 This month on TalkMum we're talking about the highs and woes of pregnancy, and also following blogger Kiran as she counts down to b-day. She's entering the final stages of the third trimester now, so at 36 weeks pregnant, how is she doing?

In the last few days I've gone from feeling quite nervous and worried to feeling really calm. It's a far better feeling to be experiencing in pregnancy! I'm not sure what has brought it on, but it's lovely to have reached the point where I know my baby is coming soon, and I feel ready.
And it's good that I at least feel ready, because to be honest, I'm not quite there yet in terms of the practicalities. I've still got a few things to sort out - like packing my hospital bag and buying a Moses basket - but these are simple things to achieve. The big stuff - like getting my head around the fact that very soon I'll have another little one to look after - is mostly done.
I've just had what should be my last scan before my baby is due. I've been having them every four weeks to keep an eye on baby's growth. This is because I had pre-eclampsia and HELLP syndrome in my first pregnancy and my baby was quite little.
Having the scans this time round has been a far happier experience than the first time. With my first baby, I'd worry hugely before each scan - I had them every two weeks from 27 weeks and they kept showing his growth rate dropping.
This time, they've been just a precaution as my baby is growing well and looks healthy - so they've just been a lovely experience and I've felt fortunate to see her on the screen so much! She already weighs about what her older brother did when he was born, so holding a newborn who is likely to be a fair bit bigger than our last one was will be a very different experience I'm sure. At least my husband won't be sent on an emergency dash to buy teeny premmie baby clothes while me and baby are in hospital!
As my due date gets closer, I've started to think more about what my baby will look like. Whose eyes will she have? Will she be dark like me or fair like her daddy and brother? Will she make the cutest little squeaks her brother did as a newborn or will she have a set of lungs on her that the whole hospital ward will hear about? Will she like being swaddled, and will she feed and sleep well? These are all questions that are starting to creep into my mind, and I can't wait to find out the answers and finally meet her.
My husband and I have decided to try and get as much rest as possible over the coming weeks. We remember from last time the importance of feeling rested and having as much as possible in reserve when it comes to energy levels. It's not going to be easy with a teething 18-month-old around, but we've decided it has to happen.
Kiran is a freelance writer, journalist and blogger who recently returned to her hometown of London after nearly a decade of living overseas. She is mum to a toddler, and currently expecting her second child.