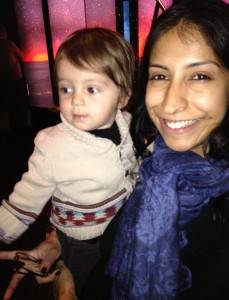 TalkMum blogger Kiran is currently 25 weeks pregnant with her second baby. In our new feature, she'll be sharing her pregnancy journey with us, and writing all about the highs and lows of everything that happens along the way.
Make sure you also read her blog Hello Little Mister, and her TalkMum posts here:
I'm 25 weeks, and suddenly this feels real. We're going to have another baby. My son is only 15 months old, so I've spent much of this pregnancy panicking a little about having two little ones less than 19 months apart. But it hasn't felt real until now.
I guess for me hitting 25 weeks feels like a major milestone - more in some ways than the 12-week or 20-weeks scans. My pregnancy is also progressing well, so perhaps that is why the reality of having another baby is finally sinking in.
This pregnancy is so different from my first in almost every way. I'm relieved the almost constant nausea that plagued me the first time round until fourteen weeks didn't resurface this time. Instead, I spent the first trimester incredibly fatigued. I would lie on the sofa while my little boy crawled around the lounge in front of me. I was too tired to get up.
That tiredness eased somewhat in the second trimester, but it is well and truly back. Perhaps having a high-energy toddler who must run everywhere all the time is just as much to blame as being pregnant though. Our sleepless nights (we are currently going through a particularly bad separation anxiety phase with teething thrown into the mix) also don't help.
Perhaps the greatest difference though is the amount of monitoring I'm undergoing this time round. With my son, I developed pre-eclampsia and HELLP syndrome around 36 weeks. He was born healthy and happy at 38 weeks by emergency c-section, but I'm being closely watched now incase the illness returns. Recurrence rates vary between 5 and 80 percent, obviously a huge difference and very dependent on each individual case, but I'm feeling reassured that doctors aren't taking any chances.
While all the signs so far are extremely positive, this pregnancy is feeling a little like having a part time job with lots of meetings scheduled. Between consultant appointments, blood pressure checks, extra scans to check my baby's growth and my placenta function, and extra blood tests - I'm wondering how I'd fit all this in if I was working full time like I was the last time round.
On a more aesthetic note, I'm feeling huge. At 25 weeks I'm already about the size I was at 35 weeks last time, so I'm rather scared at how much bigger I'm going to get. I'm already feeling uncomfortable and I know that won't get any easier - particularly with a little boy on my hip when he doesn't feel like walking up the stairs.
I never really 'glowed' the first time round, and I'm certainly not exuding any pregnancy shine this time either. I have to admit that I find being pregnant hard and exhausting as well as exciting. But now that I've hit 25 weeks, I'm going to let myself focus on the excitement - hopefully it will help me cope better with the tiredness too! I'll keep you posted.
Are you pregnant with your second baby; if so, how does this pregnancy compare with your first? And how do you juggle looking after your first baby along with all the midwife and medical appointments? We'd love to hear from you, leave us a comment to let us know.
Kiran blogs about parenting and motherhood at hellolittlemister.wordpress.com.