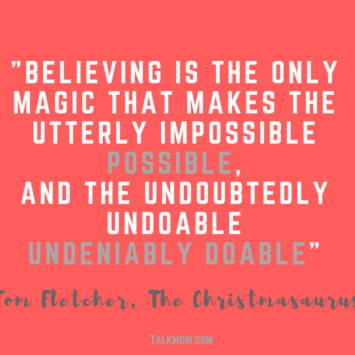 It's officially December, which means only one thing; we're on the countdown to CHRISTMAS
Christmas instantly becomes a million times more magical once you have children, and in the countdown to the big day we will be helping you prepare, with a whole host of festive tips and treats.
If you are currently pregnant, you might be wondering how on earth you can celebrate when wine and all the good cheese is off the menu, and you feel more like going to bed early than dancing on the tables. But fear not, we have lots of ideas to help in our guide to being pregnant over the party season.
We'll also be posting about the unmistakable signs that you're a new mum or dad...which is sure to be familiar...
If the festive season brings our your appetite for baking, we'll be posting recipes for festive treats your children can help you make (to prepare, read our tips on stress-free baking with children).
And if all the planning, preparing and close proximity to relatives is enough to bring you out in a cold sweat, stay tuned for our post on having a stress-free Christmas.
We'd love you to come and celebrate with us over the next few weeks!
Make sure you're all caught up with the posts from our Fertility Month, and you can also read a mum's letter to Santa