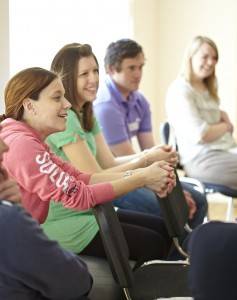 How easy is it to make new mum friends when you're pregnant...if you don't go to NCT classes? Continuing with friendship month on TalkMum, here's Fran from The Parent Social
From what I've heard, most expectant mums find their local NCT group fertile ground for forging new friendships. I didn't do NCT. I was going to, but we were going to miss the first session due to a wedding; the woman was really snooty about it, I got annoyed so kicked it into touch and got a private instructor instead (which incidentally, cost the same as NCT). I loved this, as I was able to ask loads of daft questions that I wouldn't have had the guts to ask in front of other people. However, I missed out on the social aspect.
When pregnant, I found that my existing childless friends were still just as much a part of my life as previously. As I wasn't suffering from morning sickness or any aches and pains to speak of, my social life carried on pretty much as before minus the boozing. However, I did find myself reconnecting with old friends who were already mums; friends that I'd drifted apart from maybe because their lives had changed. Also, when I was six weeks pregnant (I was NOT going to tell anyone until 12 weeks by the way), I had a reunion with an old work colleague who I hadn't seen in a few years. I was delighted to discover she was also pregnant. I couldn't help blurting my news out to her at the end of the evening after we'd left my other friends behind. It felt so good to chat with someone who knew exactly what it was like.
When Sofia was born, the midwife/Health Visitors did their early visits and passed on details of a new mum and baby group. It started at 9.30am. Sofia was a few weeks old, and getting somewhere by 9.30am seemed like mission impossible. I really had to galvanize myself, but I managed it and was so glad that I did.
Lots of mums can feel very isolated when they've just had a baby, but these sorts of groups can offer a real lifeline. We were all in the same boat and everyone was keen to chat to each other about EVERYTHING baby-related. I actually became very good friends with a couple of ladies, who were friends with lots more women who had all been at the same NCT class. They too became friends. They were my surrogate NCT mums; I was the cuckoo, except it never felt like that. I started to go to more and more groups at Childrens' Centres and made lots of friends. As time went on, I became more selective, I didn't befriend someone just because we'd both experienced childbirth; people became firm friends and I had more in common with them than just children.
My social circle has actually increased since having children. My good friends have remained so even if I don't see them nearly as often as I did, I've reconnected with old friends that I hadn't seen in a while due to them having kids, I have all of the friends I made from the early days, friends from the multiples club I go to (as a second time mum), and now I find myself acquiring yet more friends since Sofia started school. These are all mums that I actually like to go out for a drink with and, shock horror, talk about things other than children!
Fran is a graduate, wife, mother of three girls (a five year old and two year old twins) and former PR manager for a global financial website. She blogs about all things parenting on her site The Parent Social but also blogs about some of her other favourite subjects, which range from food, wine and dining to Italy, investing and football.