What's it like to be a midwife, mum and blogger? We speak to midwife Clemmie Hooper, who writes the brilliant blog Gas & Air
Clemmie works in south east London as a case loading midwife, supporting women through their pregnancies, birth and the early days of life with a newborn.
She decided to start her blog Gas & Air to share all the knowledge and wisdom she had learnt from being a midwife and a mother. She writes stories about pregnancy, birth and mothering young children that aren't so widely talked about – straight from the midwife's mouth.
Hi Clemmie - so have you always wanted to be a midwife? What was it about the job that really called to you?
I wanted to be one since I knew what it was (age 8), I love the thought of looking after women and their families during such a special time in their lives. I knew I couldn't care for really sick people so nursing was never for me. I am always in awe of what women's bodies are capable of!
What are your favourite things about the job?
The buzz of delivering a baby, helping women go through the most amazing challenge of their life. The on calls and unpredictably of the days/nights. Leaving my family at weekends to do visits and when things don't go as well as you had hoped.
Do you have a typical day? If so, what does it consist of?
My day is so unpredictable but normally I work 9-5 and on call three times a week. Once I've dropped my girls off at school and nursery I have a full diary to approach. Visits include newborn checks, helping with breastfeeding, antenatal appointments and birth talks. And just when you think you're done your pager goes off and you might be called to a home birth!
How did becoming a mother change you as a midwife?
It made me realise the emotional feelings you go through as a mother and helped me familiarise myself and my women with them. I love watching how family dynamics work and I'm very privileged to be able to go into peoples lives for such an intense time and watch them grow and change. It helps shape me as a mother and wife!
Moving on to your blog Gas & Air, what inspired you to set it up?
Ah! Well I wanted to share my passion, knowledge and wisdom with anyone who wanted to read about it. I get asked questions all the time by the people I meet about my job and what I thought on this and that so I thought hey I'm going to put it in one lovely place and you can all see for yourselves. I loved reading any birth related blogs and there was no British midwife blogging so a gap in the market kind of idea!
And what sort of thing inspires you to write?
Sometimes I have a real flow of topics and I'm frantically trying to get them into a weekly blog post and sometimes I have total writers block (like now). Ideas just come to me a mad times mostly in the night or when I'm driving or catching a baby! Questions women ask me or if there's something topical in the news – that always gets lots of interest.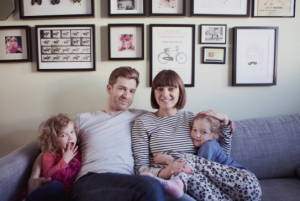 You feature a lot of really beautiful and incredibly honest birth stories on your blog, which ones have been your most memorable?
I really can't pick a favourite because they are all so worthy and empowering. Two that stand out are Thomas's story, the rawness and beauty of how this mother writes about giving birth to her still born is something so incredible. Hattie's is also great, again she has a wonderful way of writing. It really is all thanks to the amazing women who write and share them.

What's been the most popular post on your blog?
My post on the truth about maternity leave of course!
Which is your favourite?
That's tricky. I do love the maternity leave one, but my post Mum's the word makes me giggle.
Finally, what advice would you give to a first-time mum-to-be?
Don't worry too much about the birth because it's just the tip of the iceberg in the whole parenthood journey. Don't go crazy just researching about the birth, being a Mama and tackling the challenges that that brings is waaaaay harder than pushing a baby out.
And a second-time mum? (Clearly asking with vested interest here!)
Have great childcare for the older child and don't feel guilty for using it! Oh and a Cbeebies day is totally fine when it's raining or you're too knackered to go the park.
Thanks Clemmie! Make sure you follow her on Twitter and Facebook. 
And if this post has whetted your appetite for more beautiful birth stories, make sure you read our recent round-up.
All photos are Clemmie's own, from Phillipa James photography.