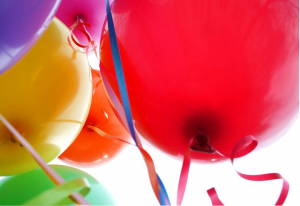 Stuck for ideas on how to celebrate children's birthdays? Need to think up some party plans that don't break the bank? Today we're thrilled to welcome new TalkMum blogger Kathryn, the brains behind TheBabyWebsite, one of the UK's leading parenting websites. As mum to three daughters and two step-sons, she has plenty of experience hosting children's birthday parties. So here are some party ideas and thoughts on why children don't just need 'fancy' birthday parties...
I love birthdays - I always have. I think women are much more into birthdays and all the trappings than men although I don't think it's about what presents I have or how many cards. I just like the day to be a special one and little gestures are more important to me than fancily-wrapped gifts I don't really need.
Anyway I digress, as I am wont to do, the subject is children's birthday parties.....
Over the years I've been to parties with my kids which have involved entire classes being given party-bags worth more than the presents actually given to the birthday child. Parties where clowns and DJs entertain, magicians coax rabbits out of worn old hats, parties where 6 year old girls are given 'makeovers' (ARGHHHH!!), balloon-modelling, paintballing, LaserDomes, limousines, Bowling, Ice-Skating. 3 year olds' parties where complimentary manicures are given to the mums, who are duly attending with their little ones who would frankly probably rather be at home quietly lining up all their cuddlies in a row and feeding them toy ELC food or running madly around the garden for no particular purpose.
Children's birthday parties are so often not about what the children necessarily would like but Mums wanting to impress other mums - perhaps not always deliberately? I say Mums because let's be fair, we Mums are the ones who do all the organising, planning, buying and worrying when it comes to birthdays, parties and all that malarkey. I can remember one party for my then 6 year old daughter where her entire class of 32 was invited. We hired out the local church hall and yes, we hired a DJ to coax the kids to do the Birdy Song Dance, the Macarena etc. Being a bit of a cheap-skate I suggested to another mum, whose daughter's birthday was the same week, that we held a 'joint party' so it didn't cost too much. Although frankly it still blew the budget as far as my idea of what a child's party should cost.
BUT some of the best parties my daughters have had have been the most simple:
Invitations created by them in a massive glitter-fest on wet weekends with nothing much to do resulting in a handful of their closest friends coming around to our house to 'play'.
One idea I had was a frequently recurring theme in many of their parties. Basically I'd lie a sheet on the floor in the house (or outside if warm enough) with a box of crayons and coloured pencils and plain cheap paper plates. The first 'game' was to decorate a plate and the best plate would win a little prize.
Then I'd traipse the lot of them outside into my garage where I'd put up a wallpaper-pasting table - these are cheap to buy, fold-up small & are really handy to have around even if, like me, you've never actually put up any wallpaper! On that table I'd put a pile of Rich Tea type biscuits and little pots of coloured glace icing (I'd made up earlier) and pots of Smarties, 100s & 1000s, chocolate sprinklies .... you get the picture.
For the next game/task I'd tell each child to put 3 biscuits on his/her own plate and then decorate the biscuits as they wanted. Again a prize for the 'best' biscuit, the 'funniest' biscuit, the 'messiest' biscuit, the 'greenest' biscuit etc - I could usually muster up a prize for all of them.
Boys and girls alike seemed to love this activity and it genuinely used to keep them entertained for ages. And yay it was cheap to do!
Honestly you don't need to spend a fortune to celebrate a birthday and make it memorable. Sometimes it's the simplest things which make a birthday special. A cup of coffee in bed with the paper would be fine for me ....... although come to think of it dinosaur me, who always has a book on the go and champions the cause for real books and bookshops etc., is toying with the idea of a Kindle for holidays.......... Mmmmm…. gestures are lovely but presents are quite 'nice' too come to think of it....
What's the best birthday party you've ever hosted? We'd love to hear your ideas for fun and different ways to help your children celebrate - leave a comment and let us know.
Kathryn is a mum to three daughters and two step-sons and is nearly an 'empty-nester'. She's worked in journalism and teaching but wanted a change as her children became older. Kathryn has developed her site TheBabyWebsite into one of the leading UK parenting websites. There's also TheBabyWebsite Blog, covering all manner of family/parent/baby/child 'stuff'!
Photo thanks to D. Sharon Pruitt