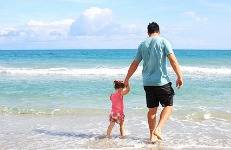 Blogger Eilidh from Mummy and Monkeys shares her top tips on planning a family day out...
If you are anything like me then sometimes getting out of the door on any given day can be a nightmare. Remembering everything you need for yourself, a baby, toddler and older children can be a daunting task. I know there is nothing worse than forgetting something important like the buggy and sling when going out for the day. Embarrassingly this has happened to us, I blame sleep deprivation. However over the years I have got better at remembering things and going prepared. I have some tips that I do to help remember essentials and pack for all eventualities and here they are;
1.     Have a mantra. Every time I leave the house I say out loud (yes I am crazy) the necessities that I need to have. So I will say "nappies, wipes, wallet, phone and keys." I will check I have them all, as I say them.
2.     Keep spares in the car. I have a bottle of sun lotion in the glove box so that if we are out for the day and it suddenly gets hot and I haven't packed very well, it's not a total disaster. I also have spare sun hats, a sling, nappies, a packet of wipes and usually some stray jumpers in the boot. In the winter, I will have spare hats and gloves as it amazing how quickly they get lost.
Spares for a baby: Some of the extra spares I have kept in the car are nappies, wipes, a spare blanket, change of clothes, dummies a carton of formula if bottle feeding and a sling.
Spares for a toddler: I always kept a travel potty in the boot along with wipes, spare comforters, change of clothes and emergency snacks.
3.     Think ahead. Is there a chance your children could get wet and or dirty? Will you need a change of clothes (don't forget socks), a towel, waterproofs, wellies? If in doubt, it is always best to be over prepared. My little boy has worn a friends pair of pink trousers after an incident with a very muddy puddle and I didn't think he would need a change of clothes.
4.     Are you going to be out all day? Pack snacks and fill an empty large bottle of water with squash so that you can top up drinks bottles and save money.
5.     Have a first aid kit. Mine includes plasters, wipes, cream, aloe vera gel (great for stings and burns) and calpol sachets.
6.     Keep a phone car charger or a power pack so that you can charge your phone if you really need it.
When you forget something major, it's no fun, but I can guarantee you will laugh about it at some point in the future!
What are your family day our essentials? Now read 5 brilliant days out for your baby.