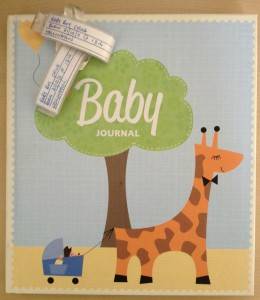 This month we're talking about milestones and memories - so how do you keep track of the important moment: a baby journal, photo albums, memory boxes? Here's Kiran on how she's recording everything, and the emotional reasons behind why she's doing it:
A bulging baby blue photo album has pride of place on my bookshelf. Page after page, it charts the life of my first child. From the day he was born to just very recently, there are photographs of every milestone. He starts to smile, he tries to roll, he learns to crawl and then walk, we buy him his first shoes - the pictures are all there, printed out dutifully and positioned in chronological order to mirror his life.
Next to the album is his baby book. Inside its hard cover are my handwritten notes about his first word, his favourite toy at nine months, and the order in which his teeth broke through his gums. Tied to the book with ribbon are the hospital tags which were fastened around his ankles but slipped off with his clothes. A midwife has used a blue pen to write the same thing on both:
Baby Boy Chug
Born 13/12/11 @13.16
Wellington

At the bottom of my wardrobe is a shoebox. Two tiny prem-sized onesies line its base. Also inside are congratulatory cards containing the thoughtful words of well-wishers. There is a newspaper from the day my baby came into the world. Its front page is one of horror and death following a fatal car crash. There is another newspaper, this one holds our birth announcement.
On my laptop are countless other photographs. In a virtual world online, there are thousands of words written and published about my child as he learnt to crawl, began weaning, started talking. I have chronicled his life in minute detail. I have noted the date of every milestone. I have recorded, in some way, every aspect of his growth that I wanted to hold in my heart forever.
Never have I paid so much attention to anything. Never have I written or photographed or recorded so studiously and with such unfaltering commitment.
When I think about why I have done this, I can think of many easy answers. I don't want to forget anything about the early years of my child's life. I have never experienced any of this before, and I want to be able to cherish it in years to come. I don't want to struggle to recall my son learning to talk. I don't want to forget his gummy pre-teething smile. I don't want the years to blur my memories of the most precious relationship I have ever known.
But underneath these obvious reasons for my almost-obsessive chronicling of my child's life is a harder reason to explain. It's fear.
Buried somewhere beneath the all-encompassing love I feel for my son is a fear that I will forget. It is a fear that as our lives change and we grow, I won't remember what he looked like with only two teeth. It is a fear that I won't remember his first attempts at learning how to jump. It is a fear that I will forget his high-pitched baby babble and muffled first words. It is a fear that I will forget what it felt like to hold him as he fell asleep.
It is a fear that I will forget the way he looked at me when he woke up.
It is a fear that I will somehow let my child down because one day I won't be able to answer his questions about his baby-self. It is a fear that I will somehow let myself down by not being able to remember these tiny details about the most important person in my life.
And even though I write, photograph and diary every milestone, I fear that these chronicles are somehow no guarantee of my memories. They are prompts, yes, but they are also not the real thing. The real memories are ones which I can't rely on photographs or scribbled notes for. They are the memories of a look, or a moment, or a smile, or a feeling, or a babble that I haven't captured on paper. They are the memories that I must somehow find a way to hold in my heart and my mind forever. I'm just terrified that I don't yet know how to do that.
How do you keep track of your baby's memories, and what are the reasons behind why you do it?
Kiran is a freelance writer, journalist and blogger who recently returned to her hometown of London after nearly a decade of living overseas. She is mum to a toddler, and currently expecting her second child. Kiran blogs about all things mumsy over at hellolittlemister.wordpress.com. You can also read her TalkMum pregnancy diary.