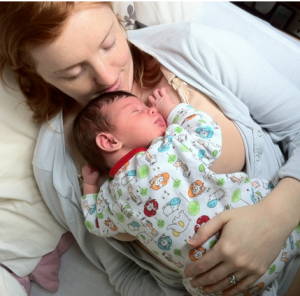 What was the standard of your antenatal care like? We've heard from Marissa, who had a very mixed experience. For me, where my midwives became really valuable was after I gave birth, for a very specific reason:
When I was pregnant with my daughter, I was under the care of a group of local community midwives at my doctor's surgery. There were about six different midwives who I saw at various times during my pregnancy and in the run-up to the big day. I had a high risk pregnancy so also saw various consultants and specialists, but most of my appointments were with the midwives.
I was happy with the standard of my care; appointments were thorough, the midwives were kind, funny and helpful, and they even came out to my house to give me a sweep before my induction. Although one of the midwives was supposed to deliver my baby, due to my quick labour this wasn't possible. However, she did come in as soon as she could and started us off with breastfeeding.
It was a good start, but as soon as we got home it quickly went downhill. Eliza wouldn't latch on for longer than a few seconds, it was difficult to wake her up to feed. Exhausted and overwhelmed myself, I wasn't really sure what to do.
The next morning, the doorbell rang. It was one of the midwives who'd come to check on me and the baby. She took one look at Eliza and pointed out that she was very yellow - jaundice. Were we having problems feeding? I burst into tears; how could I be such a terrible mother already?
The midwife was incredibly kind, helpful and sympathetic (clearly used to dealing with hormonal new mothers!) She gave us advice and help with latching, suggested we tried nipple shields, and recommended we feed Eliza every 2-3 hours, day and night. She also gave us an emergency pager number and told us to call with any problems.
After that, someone came to see us every day for a week to check the latch, check on Eliza, and see how we were doing. After about a week we stopped using the shields and also dropped to on-demand feeding (it was slightly easier not to have to get up every two hours!) And after that a midwife came to see us every other day for two weeks, and were on the other end of the phone any time we needed them.
It wasn't all plain sailing once we were signed off - we had incredibly painful latch problems a few weeks later, and I attended a couple of breastfeeding sessions for help. But for the most part it's been a joyful experience. I'm still feeding my daughter at two years, and we owe a lot to the midwives who helped us so much.
Thinking about it now, it would have been a lot more difficult without this sort of close care. I was incredibly lucky to have received it, and I'm still thankful for the support, care and compassion that the midwifes showed us. One of my friends who lived just down the road at a different surgery had completely different care and just one visit from a midwife, despite struggling with feeding. It's not really fair, is it?
Here's some places to get help with breastfeeding:
You can call the NCT breastfeeding helpline on 0300 330 0700 to talk to a qualified counsellor about feeding your baby. The line is open everyday from 8am to 10pm
You can also call the La Leche League breastfeeding helpline on 0845 120 2918
Health visitors, your local hospital or doctors surgery should be able to point you in the direction of drop-in breastfeeding clinics and cafes to attend (these usually take place at heath centres or Sure Start centres)
The Kellymom website is also an incredibly useful breastfeeding resource. It's US-focused, but there's a lot of information and help with breastfeeding.
Gillian blogs over at A Baby on Board about London life as a new mum, covering everything from baby clothes to breastfeeding.She lives with her toddler daughter Eliza and husband Alex in south London.