What were the biggest changes to your life once you had a baby? Here's TalkMum blogger Fran on everything that has altered in her world since becoming a mother. Read Fran's blog The Parent Social, and make sure you also check out her previous posts.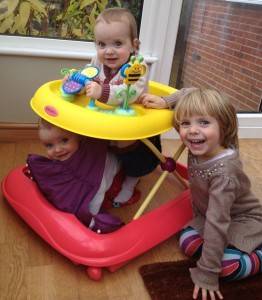 My life changed incomprehensibly an hour before my daughter was born when I was rushed in for a ventouse delivery. She'd turned back-to-back and her heart rate had dropped (following a 37 hour labour!). I don't think I've ever been so scared in my life. Of course I wasn't scared for me, I was scared for someone else in a way I couldn't explain; a fear for the safety of someone I hadn't even met yet. Sofia was born; I didn't hear a cry (probably for a matter of seconds, I thought minutes) PANIC! It was all good - a healthy bouncing baby girl. The rollercoaster of motherhood had begun.
I immediately experienced a very different type of love from anything I'd known before: that completely unconditional love, where I would do anything for my daughter. Overnight, I'd become a far more selfless person. Previously a bit of a social butterfly and a definite bon viveur, I was very happy staying in with my family and didn't miss my previous out-five-nights-a-week lifestyle. When I did have the occasional night out I appreciated it far more.
Becoming a mother was tinged with some sadness, having lost my own mum many years ago. I knew she would have been absolutely ecstatic about having grandchildren and I couldn't help but think how my new life as a mother would be quite different if she was around. There were so many things I wished I could ask her. I was reminded of her recounting to me how, when I was a baby, she would often call my granny (who lived over 150 miles away), provide a London weather report and describe what I was wearing to see if it sounded suitable. I wanted to have my mum on hand to ask 'silly' questions and, I suppose, to mother me a bit. However, not having this luxury did mean that I really had to get stuck in and not be indulged, as I would have been if she was around. It strengthened my relationship with my husband, as it was him that I always turned to first, and he who I discussed my various mother neuroses with.
The dynamics of our relationship did change. We bonded even more through our mutual love for our daughter, but inevitably we didn't have as much time for each other. We had to work harder at making time for us as a couple and when we did go out - just the two of us - we tried to ensure that we talked about things other than the baby.
My social circle actually increased. My good friends remained so even if I didn't see them nearly as often as I had, but I was now mixing with a lot of people I previously wouldn't have: NCT people, mums at playgroups and children's centres, and more recently the parents of Sofia's nursery friends.
When Sofia was six weeks old I started to work part-time from home. This was actually quite stressful and on reflection a mistake as I was trying to cram too much in. I was going to new mum groups in the morning, rushing home to reply to a few emails, and then rushing back out again for a play date in the afternoon. Armed with my Blackberry, I felt I had a point to prove and had to be 'always on'. When Sofia turned one, I went back into the office two days a week and worked from home the equivalent of half a day. For me, this was the perfect work/mum balance. I enjoyed interacting with my work colleagues and talking about non-child topics; I even enjoyed the commute as I had an hour of uninterrupted time where I could read or listen to music. On my non-work days, I had real quality time with Sofia and spread my half-day working from home across the evenings and nap times.
The arrival of my twins heralded an even bigger change. I now had three children under three. I had to juggle the needs of a very active toddler with caring for two newborns. Working part-time was no longer viable. I fully immersed myself in motherhood and no longer checked my Blackberry obsessively as I had done previously. It was fantastic not to be mentally drafting a work email whilst at a children's group or having to put off a trip out on a sunny day as I had a work call I had to do. I totally embraced and loved this lifestyle change and really let go.
However, after 17 months where my day consists of a lot of washing, cleaning, cooking and more cleaning (but with a lot of fun and laughter too I hasten to add) I am looking for an additional challenge and – dare I say it – I miss working part-time. So, what next on this life-changing journey…?
What's been the biggest change to your life since having a baby?
Francesca De Franco
A blogger and Hubber on some of her favourite subjects, which range from parenting, food and wine to Italy, investing and football; some of Fran's writing can be viewed at The Parent Social.