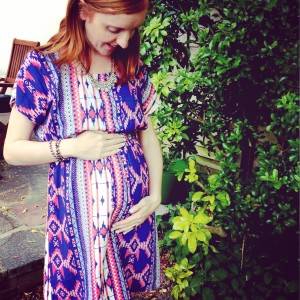 What's it like to be five months pregnant? Here's the next instalment in Gill's pregnancy diary.
It seems strange, seeing it written down, that I'm five months pregnant. I'm in that stage where it feels like I've been pregnant forever, but at the same time, where have those months gone? To be honest, I'm slightly in denial that I'm having a baby in October...it seems so soon.
I thought having an energetic toddler would mean I would never feel normal for the whole nine months, but after the tiredness and sickness of the first trimester, I'm actually feeling pretty good. I could always have a nap, but I think that's parenting for you. I'm hoping this will continue, and it's not just a second trimester lull before the aches, pains and grizzles of the third. Tell me that's possible?!
The baby is really moving about now; I'm feeling lots of kicks, and I'm sure I've felt a few hiccups. I also seem to be getting more Braxton Hicks contractions at night, which seems a lot earlier than with my first pregnancy.
I'm high-risk due to a couple of factors, which for me means lots of extra check-ups, medication and close monitoring. Despite that, all seems fine. I know there's a few decisions to be made about my delivery coming up though. Last time, I was induced on my due date - but I'm really keen to go into labour naturally before then, so if anyone has any good tips for me to start trying in a few weeks, let me know.
Last time round, I'm sure we'd decided on everything we need to buy, started painting the nursery, and made so many lists by five months. But being a second pregnancy, we already have a lot of things, the baby will sleep in with us for ages. and it seems so early yet. I'm feeling much more relaxed this time round. Did anyone else feel this way with their second pregnancy?
You can also read my weekly updates over at my blog, A Baby on Board. And I'm off to the Britmums Live blogging conference tomorrow, so do say hello if you go.