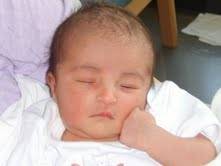 When Fozia awoke with stomach pains two weeks before her first due date, she was convinced it couldn't be labour. After all, first babies are always late...aren't they? Here's what happened next, and how she dealt with unexpected complications during both of her labours.
From saying I would never have kids when I was a teenager, I have somehow ended up with two daughters. And their births were totally different to each other.
I had a birth plan, both times, but to be honest it was a case of ripping it up and going with the flow!!
With my first, I was told by so many people how with your first child your labour is REALLY long, how the baby will likely be overdue…..and I was scared. I was scared anyway of giving birth so for the last few months I was in denial that this baby was going to come out. I tried to block that bit out!
So when I woke up with stomach pains at midnight two weeks before my due date I did not think anything of it and just thought I was constipated and needed the toilet. I went back to sleep for a while but was soon rudely awoken again thinking I need the toilet again. However, this time there was blood.
So I rang the hospital, still not realising I was in labour, (I couldn't be could I?!) SO many people had told me I would be overdue. They told me to pop in for a check up. By the time we got to the hospital ( I was with my parents) which is literally just 5 minutes away, the pain was severe. Rather than think the baby was arriving, I thought something was seriously wrong. How clueless was I?!
The midwife took a urine sample and realised the baby was in distress. She called the doctor in who realised the baby was ready and he broke my waters. Then because they thought my placenta may have burst everything happened really quickly, so much so that I ended up giving birth alone!! My husband was at work and didn't even realise I was in hospital; in my eyes I had gone for a check up!
I was given a spinal block as they were prepping me for a possible cesarean. The effects of that were immediate, and I was in a blissful painfree state. Thankfully I escaped from a cesarean as my daughter was ready to arrive anyway so I just needed to be cut slightly and she arrived via ventuose (where they literally suck the baby out!). So I had my baby within 3 hours of waking up.
My second birth, was slightly more planned but still relatively quick. I was induced due to gestational diabetes. Again I was hearing horror stories of how inductions drag out the birth, more chance of a cesarean etc etc and again I was scared. I psyched myself up on the day only to be told there were no beds available and to try again tomorrow. So another night of willing the baby to come out herself but she was being a stubborn so and so.
I had my first pessary inserted at 3pm. I was meant to have another at 9pm but my midwife was busy with another lady in labour. However, the pessary was not needed as the pains started soon after. They did come on quite suddenly and intensely.
I was disappointed by the care I received. I told the staff on night duty I was in pain. It took them almost 2 hours to give me a painkiller, then I think they gave me something to help me sleep as I managed to nod off. I was in such severe pain that I was on the verge of fainting in the bathroom but they did not check me to see if I was in labour. It was only when I heard an almighty pop and the pain intensified that I screamed at them and they realised I was in labour. Having gestational diabetes I should have been monitored throughout and been on a drip to give me insulin if I needed it…but again it all happened so quickly. They panicked and wheeled me to the delivery room, rang my husband, tried to find my allocated MW, and all this time I am feeling the need to push. My husband managed to arrive, but got freaked out by it all and went back into the corridor. The baby arrived after just a few pushes but I ended up with a third degree tear.
The doctor came to examine me and decided I needed to go into surgery. However there was no rush. But I soon felt myself bleeding, and a lot. I told the MW who said the doctor had checked and no rush. SO she went off to get ready to take me to theatre. I felt myself feeling faint but before I could tell hubby I fainted and woke up to being wheeled into surgery with my MW trying to wake me up. They checked my sugar levels which were sky high (the highest they had EVER been) and then gave me a spinal block to stitch me up.
Two very different births but two gorgeous daughters.
Did you have complications during pregnancy that affected your delivery? How did you cope?
Fozia is a mum of 2 daughters. She was working as a legal adviser at the Citizens Advice Bureau but is currently a stay at home mum after being made redundant.
She blogs at Muslim Mummy about her life in general and all things relating to babies, toddlers and children.
If you'd like to read more birth stories, you can read Chloe and Fran's stories, and also our tips for a sensible recovery from labour.