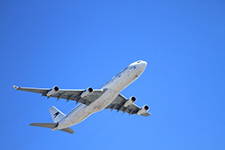 Flying with your toddler for the first time this summer? Don't panic. Blogger Fozia from Muslim Mummy has some great tips to share with you...
I have never been as filled with dread at the thought of flying with toddlers as I was recently when I flew with my second child (who was 2 and a half). My second child is very active compared to my first. Whereas my first would be happy to just sit and colour, my second is a whirlwind of activity! This was proven when we went to Turkey when she was 18 months, and by the end of the four hour plane trip, I was ready to jump out of it!
So here are my tips to try and make that journey slightly easier for you…. We managed to survive a seven hour flight in March….followed by a three hour one. So ten hours in the air.
When you book your flight, make sure you go online and reserve the seats you want. This way you can try to ensure you can get window seats if this is what you prefer, or seats in the middle aisle, seats close to the toilet etc. However, note that all seats aren't always realeased online, especially the front aisle ones.
If you can get a night flight then this may be ideal, as your toddler will eventually fall asleep... after the initial excitement of being on the plane.
Planes can get quite cool, so even if you are going to a warm country make sure you have some warm clothes incase your toddler finds it cold on the plane.
Use online check-in if the airline provides it. You may still need to queue to get your baggage checked in but in my experience these queues are usually shorter.
Let your child have their own suitcase and let them help you pack with their toys and snacks. It will make the whole process more exciting for them. My toddler had a ride-on suitcase which she loved and could sit on it when she got tired.
Take some of their favourite toys and games with you. With older children, the in-flight entertainment can be sufficent, depending on the airline, but if your toddler is anything like mine and gets bored pretty easily then you will need lots of items to distract them! You can make a goody bag for them with some small new items.
If your child has a tablet (the tablets were my saviour on the plane) download some new apps the day before you travel so that your toddler has something new to investigate.
In my experience, you can never have too many snacks, especially if you have fussy children. Remember to check the restrictions on fluids but you can always purchase drinks once you have passed through security, although most airlines are pretty good at providing drinks if you are on a long flight.
If your toddler wants to walk up and down the aisle, let them, just make sure s/he doesn't get in the way of the crew when they are serving food etc. My little one managed to charm a few people with her 'angelic' ways while wandering around when she got tired of sitting in one place.
The other worrying thing about taking a toddler on holiday is what to pack for them. For myself, for the flight the essentials are basic:
a number of spare changes of clothes
nappies and wipes
a lollipop or something to suck on which can help when the air pressure affects their ears
of course, toys and snacks
For the holiday itself my essentials are:
medicine. I prefer to take medicine from here as that is what they are used to, calpol, ibuprofen and dioralyte are my three main essential medicines.
her toiletries; I don't want to be trying new toiletries abroad which may not agree with her skin. In addition to this, if your child is used to a night light, it may be a good idea to take one with you.
finally, if you are not going for long and have space in your luggage, you may also want to consider taking nappies. Although they are readily available everywhere, branded nappies could be more expensive and if your toddler has a sensitive bottom then local brands may not agree with them.
Happy travels!
Now read Becky's tips on surviving a long car journey with a baby and Emma's advice on how to save money when going on a family holiday.